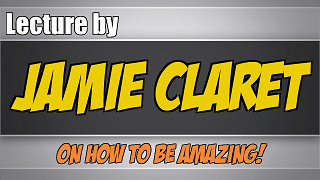 02 Jan

Lecture by Jamie Claret: How to be Amazing

Jamie Claret from The Amazing Support Company (IT Support) gives a talk at Middlesex University to students and recent graduates about how being amazing will help them keep and maintain a job in these tough economic times.

In this talk Jamie explains how inter personal skills and networking are often the key to finding employment and new work. In the high stress world of Technical Support, having a friendly and customer focused approach sets The Amazing Support Company apart from the competition.

The Amazing Support Company prides itself on offering amazing customer service and IT Support to medium sized businesses and prides itself on recruiting and training amazing team members.

The following two tabs change content below.
Jamie has been a Company Director in the IT industry for over 12 years and works with Operations Managers and Office Managers of SME companies in the London and Hertfordshire areas who feel that they have outgrown their existing IT Support and are looking for proactive advice. He is a Director and co-owner of Amazing Support, a Microsoft Silver accredited and specialist Managed IT Support and IT Services company. Jamie is married with two children and enjoys off-road mountain biking in serious amounts of mud! He has also appeared on Channel 4 giving demos and explanations on featured technology releases, on local radio and has spoken to University Graduates on how to run an effective IT business.
Latest posts by Jamie Claret (see all)