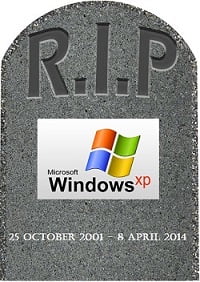 10 Jan

Oh no, Windows XP is dead!

We all knew it was happening and now it really is here, from 8th April 2014 Microsoft will no longer support Windows XP.

This means no more security updates, no more hotfixes, no more service packs, nada and means that if you continue to use your computer with Windows XP it will be vulnerable to attacks, threats and all the other nasties out there.

Remember the Cryptolocker ransomware virus last month? You don't want that! Read all about it at http://www.bbc.co.uk/news/technology-25506020 and hope that you never get that as an infection.

In short, if you remain on Windows XP your computer and data could become very compromised and severely exposed.

Not to mention, using Windows XP on a business network will put the entire network, servers and computers at an extremely high risk.
What do you need to do?
Well, upgrade to Windows 8 unfortunately and that also means purchasing a new computer since Windows 8 will only work with the requisite hardware requirements.
There are lots of mixed reviews about Windows 8, mainly due to the sheer jump in design even from Windows 7, so for Windows XP users it may be frustrating to get around at first.
However, stick with it as the new Windows 8 interface will be here to stay and is the only operating system that you can upgrade to from Windows XP since Windows 7 isn't even available for purchase any more.
What next?
Speak to your IT support company who can help migrate your data  and profiles over to brand new Windows 8 computers to keep you protected and secure!
What if you want to do it yourself?
You can download and follow the Windows Upgrade Assistant from the link below on Microsoft's website to see if Windows XP can be upgraded on your existing computer, but we would strongly recommend letting a professional do this and not DIY!
For more information on the end of life support for Windows XP, read it at http://windows.microsoft.com/en-GB/windows/end-support-help
Update: Since writing this article, as of 29th July 2015 you can also upgrade to Windows 10 
The following two tabs change content below.
David has held positions as Operations Director and Head of IT in legal and professional firms for more than 10 years. He is a Director and co-owner of Amazing Support, an Award Winning, Microsoft Silver & Cyber Essentials accredited specialist Managed IT Support and Cyber Security company. David actively helps SME businesses receive better Managed IT Support and Cyber Security Services in the London and Hertfordshire areas. He also assists overseas companies who are looking to expand their business operations into the UK and helps with their inward investment IT process. A member of The Chartered Institute for IT (BCS), UK Council for Child Internet Safety (UKCCIS) and an event speaker promoting business start-ups and technology awareness. David is also an Accredited Mediator. Married with a son, David enjoys driving his hybrid around Hertfordshire, participating in charity bike rides and is a keen Krav Maga practioner.
Latest posts by David Share (see all)