03 Jun

Windows 10 Free Upgrade Notification – What you need to know first!

You may have seen over the last few weeks (and if not, you will do soon) a notification in your taskbar tray about upgrading to Windows 10 for free!

That may all sound very fancy and lovely especially as it's free, but as a business user, if you decide to schedule in an automatic upgrade to Windows 10, you will release an untold number of problems.

[divider]
DO NOT schedule in an automatic upgrade to Windows 10 and if you have, DO NOT manually choose to upgrade when notified.
Inform us immediately by phone or email so that we can manage the upgrade for you.
[divider]
What's the current deal-io?
Microsoft are releasing Windows 10 for free to all compatible PCs and laptops globally (those running Windows 7 and 8). The communication is handled via the "Get Windows 10" notification icon in the taskbar tray. When you see the popup notification, you will have the ability to opt-in to reserve a free upgrade to Windows 10.
You can however cancel your reservation at any time by right-clicking on the "Get Windows 10" tray icon, select "Check your upgrade status" and then follow the prompts to cancel the reservation (screens below to help!).
Windows 10 will then download all of the files required in the background ready for an upgrade on 29th July 2015.
When Windows 10 is finally released on 29th July 2015, you'll get a further notification on your desktop that your upgrade is ready and it will then let you manually schedule the installation for a convenient time or upgrade immediately.
Doesn't sound that bad
So you've said, "Upgrade me to Windows 10 automatically", you leave work for the evening, let's say it's a Friday, you come back to work on Monday morning and all of your programs don't work.
Picture the panic….Sage, CMS applications, emails, browser settings, custom plugins in Outlook are all gone and can't open, documents are not where you left them, your desktop icons have a load of weird "missing shortcut" issues, your printers have all disappeared (yes! even your printers..aaarrrrrgh!), you can't even access the network drives! Maybe you just want to play Microsoft Hearts, good luck, 'cos that's gone as well!
As a business user, you cannot afford downtime and the last thing you want to do is to turn on your PC in the morning and you can't work. Not-to-mention, it will no doubt be at a time you need to work; quarterly VAT returns, morning staff update, sales enquiry to respond to, board meeting, one of your chief users needs IT support and you can't help them as your PC is messed up!
OK you've adequately stopped me from automatically upgrading!
Phew! So what we are suggesting to you, our clients, and hopefully soon-to-be clients, if you would like to upgrade to Windows 10, let us handle this for you by managing a proper migration to Windows 10 from your current operating system.
We can also test to ensure your programs will work and are compatible with Windows 10, and if they are not, then we will speak to your Third Party Software provider and ask if and how it can run under the new operating system.
Email profiles, desktop icons, documents, network shares, printers!!! Yes, even your printer will work! Everything will be transferred properly and tested.
We do not just click "automatically upgrade me Mr Windows" and sit back and wait for a disaster. And the first step we do is take a complete backup of your workstation first and create a restore point, just in case we need to roll back or get you up and running quickly on another machine.
By all means, you can drool over the new Windows 10 features on Microsoft's website at https://www.microsoft.com/en-us/windows/features and also read the FAQs at https://www.microsoft.com/en-us/windows/windows-10-faq so you understand what you are gaining (and losing!)
[divider]
DO NOT schedule in an automatic upgrade to Windows 10 and if you have,

DO NOT

manually choose to upgrade when notified.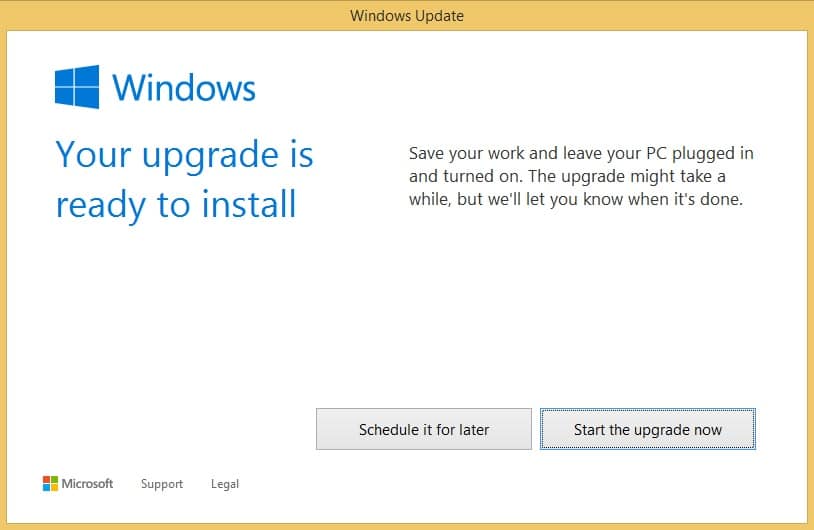 Inform us immediately by phone or email so that we can manage the upgrade for you.
[divider]
If you don't tell us and you do upgrade, good luck on Wednesday morning! We will of course be there to help you but we will not be able to guarantee the recovery of your PC or data….picture the panic then!
The following two tabs change content below.
David has held positions as Operations Director and Head of IT in legal and professional firms for more than 10 years. He is a Director and co-owner of Amazing Support, an Award Winning, Microsoft Silver & Cyber Essentials accredited specialist Managed IT Support and Cyber Security company. David actively helps SME businesses receive better Managed IT Support and Cyber Security Services in the London and Hertfordshire areas. He also assists overseas companies who are looking to expand their business operations into the UK and helps with their inward investment IT process. A member of The Chartered Institute for IT (BCS), UK Council for Child Internet Safety (UKCCIS) and an event speaker promoting business start-ups and technology awareness. David is also an Accredited Mediator. Married with a son, David enjoys driving his hybrid around Hertfordshire, participating in charity bike rides and is a keen Krav Maga practioner.
Latest posts by David Share (see all)