09 Sep

The London Borough of Enfield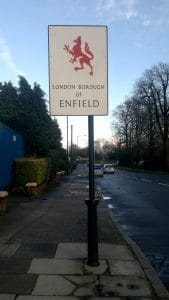 A borough of London, Enfield lies in the capitals northern border.
Taking the A10 north from London proper will land you directly in its core. Redevelopments that started in 1999 have turned the once sleepy borough and its districts into a thriving suburban center. As the cost of living in the heart of London started to increase many of its workers and businesses began looking for more affordable places to call home. However, both people and the corporations they worked for did not want to be removed too far away from central London and its amenities, not to mention its commerce.
For many, Enfield represented a happy medium of sorts. Here was a place that had one foot in the city and one foot in the countryside. It straddled a thriving, bustling metropolis and placid suburbia. More importantly, it was a happy medium for people looking to do business with London without suffering the overhead that comes along with doing business in London.
As a result, many small businesses and startups now call Enfield home, giving them a way to stay out of the crush of the heaving masses that comprise London's streets. Their proximity to London's business district does still give them the opportunity to run into the city should they need to attend a meeting or conduct some other business face to face.
Being out of London, however, may give some businesses a false sense of security.
They believe that they can let their guard down and take it easy. But, this would be a big mistake. Criminals, especially cybercriminals, can travel far and wide as they use the internets avenues to seek their targets. Business, particularly those that fall under the category of SMB (small-medium business) should pay very close attention to safeguarding their data, their customer information and their profits. Yes, a large multinational corporation is a more likely target for hackers. However, big businesses usually have an army of IT technicians, managers, programmers and coders. They are also more able to absorb the cost of an attack. For SMB's, such an attack may end with the folding of the business.
The likely answer would be then to wrap the business in so many layers of security that would make it near impregnable. However, the question then arises: Do you know how to do it? Big businesses have entire floors of IT staff to make sure that everything is set up and working properly. Most SMB's have 1-3 technicians at most to implement, install, and maintain their IT needs.
A better solution may be to engage a company that provides IT support in Enfield. These companies are made up of highly trained, seasoned professionals with years of experience. Let these pros do the heavy lifting. And they are not restricted to security either. They can assist with almost every facet and meet your IT needs on multiple levels. Let them do what they are good at, so that you can focus on what you're good at; building the business, growing the customer base and making money.
Who are Amazing Support?
The following two tabs change content below.
David has held positions as Operations Director and Head of IT in legal and professional firms for more than 10 years. He is a Director and co-owner of Amazing Support, an Award Winning, Microsoft Silver & Cyber Essentials accredited specialist Managed IT Support and Cyber Security company. David actively helps SME businesses receive better Managed IT Support and Cyber Security Services in the London and Hertfordshire areas. He also assists overseas companies who are looking to expand their business operations into the UK and helps with their inward investment IT process. A member of The Chartered Institute for IT (BCS), UK Council for Child Internet Safety (UKCCIS) and an event speaker promoting business start-ups and technology awareness. David is also an Accredited Mediator. Married with a son, David enjoys driving his hybrid around Hertfordshire, participating in charity bike rides and is a keen Krav Maga practioner.
Latest posts by David Share (see all)