03 Apr

Even with Dropbox you still need to be prepared for a disaster

Nowadays, file sharing such as Dropbox is almost indispensable. Not only is it available on a variety of operating systems, but all of your data can also be accessed from desktops, tablets and smartphones 24/7/365.
So should you backup your Business Dropbox? We say yes.
Most businesses use Dropbox and other file sharing tools on a daily basis. It allows their users to share important documents, sync their files across devices, making it extremely easy for colleagues to collaborate.
But what happens if you need to restore a document that is unrecoverable from Dropbox's new 120 day retention policy or you suffer an encryption attack making all of your Dropbox documents unusable and with a slow recovery time to restore all documents and folders to before the attack occurred.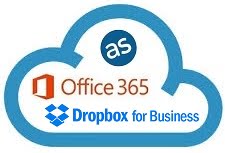 We now offer Dropbox backup with Microsoft Office 365 Sharepoint meaning all of your vital business documents are safe and secure ready to be recovered should the worse happen.
We can setup retention policies to keep files in Sharepoint for up to 25 years if necessary and if you needed to implement a disaster recovery failover from Dropbox, your business can access all files and folders within Office 365 Sharepoint instantly and at anytime across all devices.
The following two tabs change content below.
David has held positions as Operations Director and Head of IT in legal and professional firms for more than 10 years. He is a Director and co-owner of Amazing Support, a Microsoft Silver & Cyber Essentials accredited specialist Managed IT Support and Cyber Security company. David actively helps SME businesses receive better Managed IT Support and Cyber Security Services in the London and Hertfordshire areas. He also assists overseas companies who are looking to expand their business operations into the UK and helps with their inward investment IT process. A member of The Chartered Institute for IT (BCS), UK Council for Child Internet Safety (UKCCIS) and an event speaker promoting business start-ups and technology awareness. Married with a son, you will often see him riding his bicycle around the Hertfordshire towns! David participates in charity bike rides and is a keen Krav Maga practioner.
Latest posts by David Share (see all)