You can jump on Google right now and run a search for "Enterprise Web and Application Hosting" then sit back, hold tight and be prepared for the deluge of results.
There are just too many options out there.  To make matters worse reading reviews and comparisons will leave your head spinning.  Pros, cons, benefits, disadvantages, thumbs ups and thumbs downs.  An almost endless barrage of information, charts and graphs lay an assault on your eyes and brain.
---
One thing you may notice is that not all solutions are priced the same.  Some barely brake £3 a month, while others weigh in at almost 40x more.  The lowest prices tend to get a lot of attention, because, well they're cheap.  But in a lot of cases you get what you pay for.  Users find these cheaper alternatives lacking in some crucial areas.  In order to get more, you may have to open up the wallet a bit wider.  Here are some reasons why it is a good idea to pay a bit more when it comes to enterprise web and application hosting.
Customer Service
A little help goes a long way and a lot of help can mean the difference between success, or having your business at risk.  Paying a bit more for better customer service is well worth the money and when it comes to IT services, having experts "on the books" pays dividends.  Even extending your coverage from standard 8×5 (eight hours a day, five days a week) to full 24×7 support can make a world of difference.  You never know when an outage might strike or a critical issue comes to light.  The ability to access technical knowledge is essential for businesses reliant on web and application hosting.  Exchanging a bit of money for a comprehensive support package makes sure that you receive the help you need when you need it.
Managed Infrastructure
Does your website or application use a Content Management System (CMS) or Database? With 23.3% of all websites on the internet being powered by WordPress as an example, your website will require a solid and reliable platform with the hardware back-end to match it.  It's key to ensure that you employ a hosting provider that can handle your organic growth and shrinkage (this is called elastic scaling), as well as the platform you're using. It does not necessarily matter if they cannot manage it from an administration point of view, but they must be able to provide a platform that will support its technical and operational requirements, together with a support service level agreement and infrastructure environment to let you do just that.  Something goes wrong, you've got a direct line to the engineers at the hosting provider to manage the incident. Got a strategic question, you know that it will be answered with expertise and accuracy. What you don't want to do is go for a provider that gives you "unlimited everything" for a seemingly low price because guaranteed their hardware will not cater your needs and their support will be far from un-limited.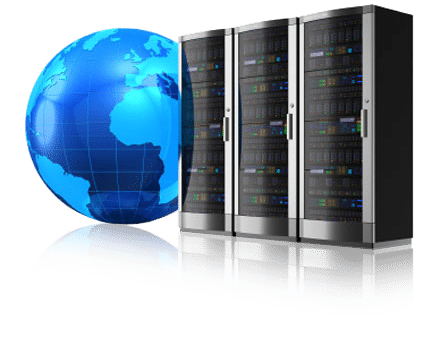 Server Compatibility
This is pretty straightforward.  If you are running any type of server (Windows, Linux, other), make sure that your web and app host's environment is compatible with your requirements to ensure integration, management and business continuity. What you need to avoid is a conversation where they only support one platform and will "do their best" to support the other, as that will provide you with little reassurance when something goes wrong. With enterprise hosting, based on the type of platforms available and the associated costs, the entire range of server operating systems should be supported on the infrastructure they provide with scalable growth and performance options.
Uptime
The opposite can mean death to your website, application, business and profits.  Make sure that whoever you choose to go with to host your valuable business process and intellectual property has a very good track record of high availability (as well as read through their service availability and level agreements). In the event that their main systems or servers go offline for whatever reason you need to know that they have a disaster recovery plan to ensure as high an uptime as possible (you're looking for somewhere between 99.9% and 99.999% which is acceptable).  Request this information before you commit to any particular vendor.