We are delighted to announce that we have been officially nominated for Best Customer Service in the FSB Hertfordshire Business Awards for 2016!
An accolade that we are so proud of to even be nominated, so for us at Amazing Support we already feel like we've won.
This nomination is truly linked around our The Amazing Way ethos which is how we work and deliver our service to our clients, suppliers, contacts and internally to our fantastic staff.
---
Anne-Marie Mittleman from Amazing Support and creator of The Amazing Way ethos said,
"Being nominated for FSB Hertfordshire Business Awards is an honour and to be nominated for Best Customer Service is even better. Customer Service is something we pride ourselves on, hence our name – Amazing Support!
The company ethos is to do things "The Amazing Way", a phrase coined in a meeting as 'the' way to do things rather than just 'doing' things. The Amazing Way runs through everything we do here at Amazing Support, from delivering our service to clients to working in-house with each other, it is our ethos and truly what makes us amazing.
With a name like ours, our Customer Service is highly rated within the organisation and reflected by our client's testimonials. We aim to provide the best service possible in the best possible way , the amazing way. Having worked in customer service for most of my working life and being at the forefront of our business, I personally pride myself on the service we provide and am very proud of The Amazing Way."
David Share and Anne-Marie Mittleman receiving the official FSB Hertfordshire Business Awards 2016 nomination certificate for Best Customer Service Category
We are so grateful to have been nominated and recognised as a Customer Service-led Managed Service Provider in Hertfordshire. No matter what, we will continue to improve and make you all proud. Here's to the results and fingers crossed we get to be a finalist!
---
There is also still time to vote (voting ends on Friday 20th May)! Please Click Here or on the image below to vote for us!  Thank you!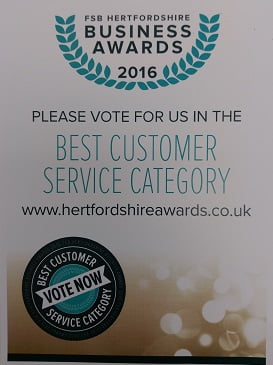 #FSBHertsAwards
---
Update 06/05/2016: We're so proud to announce that we have reached the awards FINALS! Please do continue to vote for us as voting is open until 20th May. Thank you to everyone who has already voted for us!