Support and consultation for Citrix products, whether integrating with them for the first time or if you require maintenance
Citrix is a virtualisation and cloud computing software company that offers various Software-as-a-Service (Saas) products to small and medium-sized businesses. Switching to digital workspaces and cloud-based services has helped many businesses stay flexible and responsive in today's fast-paced digital world. Amazing Support provide support and consultation for Citrix products, whether integrating with them for the first time or advising on ongoing maintenance.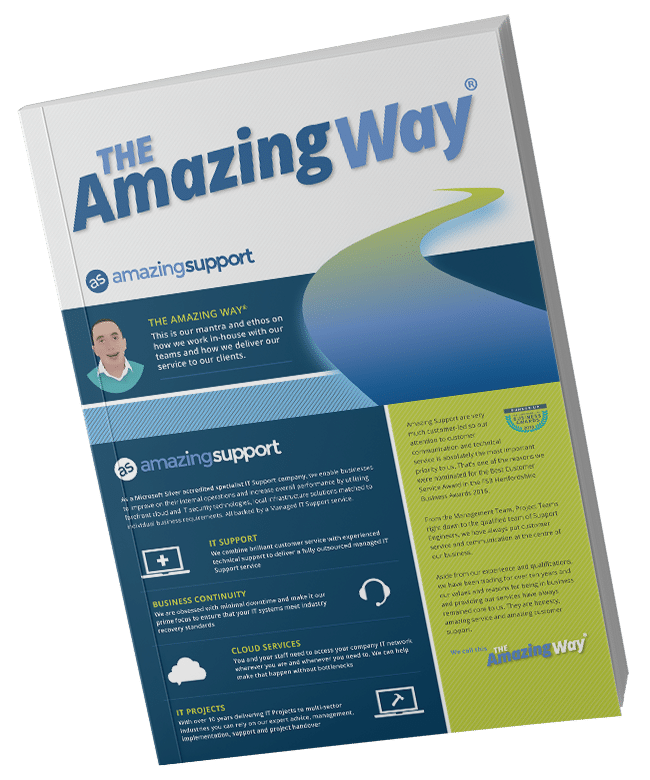 Find out how we deliver IT support the Amazing Way!
By downloading you agree to your data being passed to Amazing Support. For details on how we use it and keep it secure please see our Privacy Policy.
The Benefits of Citrix for Business
Tailored Security Solutions – A digital workspace allows you to cater access and permissions according to users, devices, networks, and locations. With the Citrix Web App Firewall, you can also protect your web apps from cyber attacks.
Faster Deployment – With a digital workspace or cloud-based network, maintenance and repair occur much more quickly. When problems arise, IT support can access your network straight away, from anywhere.
A Mobile Workforce – A virtual app and desktop solution from Citrix grants your employees the freedom to work from anywhere. You can run any operating system or web apps virtually and the Citrix Workspace app lets you virtually run applications on a Windows Server, even if the app isn't compatible with Windows 10.
Actionable Analytics – Citrix Analytics for Security uses AI and machine learning to predict user behaviours and project potential security threats. Citrix Analytics for Performance consolidates your user data into a single dashboard, making it easy to turn your analytics into action.
Cost-Effective Subscription – Citrix offers its products and services on a scalable subscription model. You pay as you go, only for the services you use. You can add or remove services at any time, to better fit your business needs.
What Does Citrix Offer Businesses?
Switching to Citrix can help streamline your operations and reduce costs. Citrix has many products and services available, and selecting the best ones for you can be difficult. Amazing Support can advise you on what works best for your business, helping you choose from among the various Citrix offerings. Their services relate to digital workspaces, networking, analytics, and cloud solutions.
Digital Workspaces – Citrix uses virtualisation to create productive digital workspaces for your team. With Citrix Content Collaboration, Endpoint Management, Managed Desktops, Hypervisor, and ShareFile, collaboration has never been easier. Digital workspaces also significantly reduce your IT costs.
Networking – The hybrid and multi-cloud solutions Citrix provides through network performance and security improves user experience. Virtual networking tools like Citrix ADC, Citrix Gateway, Citrix Web App Firewall, Citrix SD-WAN, Citrix Delivery Management, and Citrix Intelligent Traffic Management all help protect your infrastructure, provide reliable access, and grant greater visibility and insights.
Analytics – Analytics are integrated into your other Citrix services, available on the same dashboard. Citrix applies machine learning to gather data and provide practical insights to your organisation. With robust analytics, you can prevent security threats, optimise efficiency, and improve IT operations.
Cloud Services – In addition to virtualisation services, Citrix provides cloud solutions. Whether you want a hybrid solution or you're looking to move your network entirely off-site, there are service levels and add-ons you can choose from. With different workspace and networking offerings at various price points, you can choose as many or as few cloud-based services from Citrix as you require.
Our Citrix Support and Consultation Services
Amazing Support have previously helped businesses implement Citrix products successfully in their operations. We can provide guidance, expertise, and even help manage a Citrix-specific project for your business. If you already use Citrix products but would like advice on optimisation, our experts are available to help you. For more info on the business applications we support, see our pages on Office 365, Dropbox Business, Microsoft Windows, VMware, Mac OS, Accounting Platforms, and CRM.
Personally speak with one of our Directors to discuss your requirements
Complete this quick form and we will be in touch or contact us using: