Let us help support your CRM systems and keep you up to date with all your crucial information
Handling customers is one of the most important objectives for your business. Without solid customer relationships, you can't have the success you need to expand. Investing in a CRM software is an important decision, then, as it will determine how you maintain contact with existing customers and how you bring in potential customers. Amazing Support offer IT support services geared specifically toward CRM systems and software, so your business can stay on track.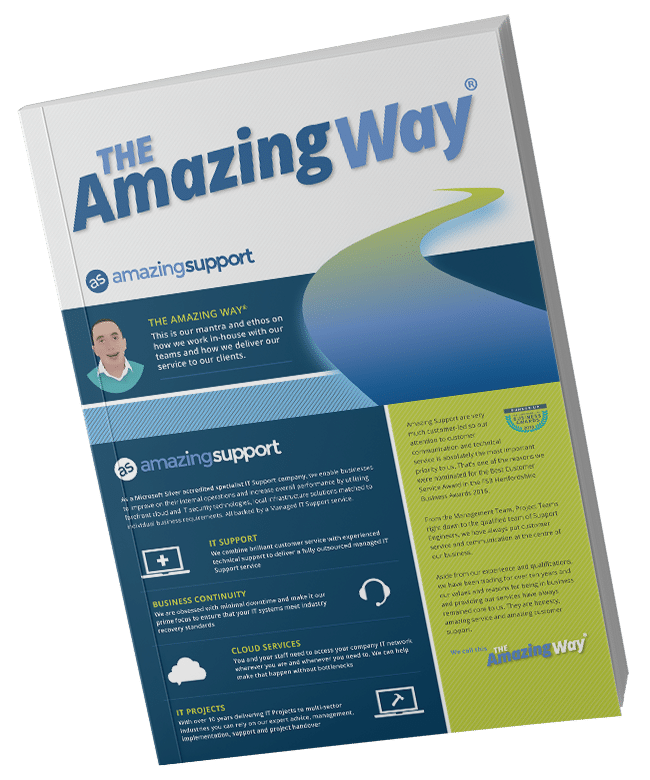 Find out how we deliver IT support the Amazing Way!
By downloading you agree to your data being passed to Amazing Support. For details on how we use it and keep it secure please see our Privacy Policy.
Customer Relationship Management (CRM) is the strategy your organisation uses to manage interactions with customers. A CRM system helps you streamline your processes, build and maintain customer relationships, enhance customer service, and increase profitability. Many CRM technologies exist today, all with the main goal of improving business relationships. Your CRM software or product records and organises contact information from customers. It gathers info from email, telephone, website, social media profiles, or whatever means you have for customers to reach you.
If you want to achieve successful customer relationships, choosing the right CRM is crucial. Keep the following features in mind when selecting your CRM.
Integration – Integrating all the services your business needs, like email clients, chat, call centres, web analytics, third-party apps, email marketing campaigns, and social media management should be a must for your CRM.
Marketing Automation – Automation allows you to target your audiences more efficiently, so you can tailor your marketing efforts and see worthwhile returns on your investments.
Contact Management – One of the most basic features of any good CRM, contact management lets you organise and segment your customer contacts. You have a more streamlined process and your customers have catered marketing communications from you.
Reporting – Reporting tools help you see how your relationships with customers are faring and enable you to make data-driven decisions.
Pipeline Management – Pipeline management helps you stay organised as customer contacts and data move through your sales and marketing pipelines.
A CRM system is a powerful tool at the base of your customer relationships. We can help you keep your CRM running with our specialised IT support services.
Enhance Your Informational Organisation – With categorised, accessible information about your customers, you'll be able to provide them a better overall experience with your company.
Boost Your Communication – When every employee has the same access to customer data, every one becomes a better customer service representative.
Improved Customer Service – For your staff dedicated specifically to customer experience, CRM makes their jobs much easier. They can devote their time and resources to higher-level tasks, since they won't waste time tracking down valuable customer data.
Everyday Automation – The sales process is full of small, mundane tasks that can easily be automated with CRM software. Automation allows your staff to address more unique customer pain points.
Efficiency Across Teams – Productivity soars when you give multiple teams access to the same customer data. A company-wide CRM system ensures your employees are completing the right tasks as customers move through your sales funnel.
Your Partner for CRM Technical Support
CRM is vital to your customer relationships, no matter how big or small your business is. Improved organisation and efficiency are only a few of the benefits of CRM software. When you consult with Amazing Support for your CRM IT support, we'll help you keep your platform up and running.
We provide support for all the major CRM software and platforms and have helped many businesses across London optimise and manage the tech side of their CRM. For more info about other business applications we support, see our pages on Office 365, Dropbox Business, Microsoft Windows, VMware, Mac OS, Citrix, and Accounting Platforms.
Personally speak with one of our Directors to discuss your requirements
Complete this quick form and we will be in touch or contact us using: