Offering all sizes of businesses small and large migration support for VMware systems and services
Virtualisation is a growing trend among large and small businesses, offering benefits like reduced cost and greater flexibility. Integrating virtual machines into your operations can be challenging, though, if you're unfamiliar with products like VMware. Amazing Support can guide you on selecting the right solutions and services from VMware, so you can start taking advantage of virtualisation in your business.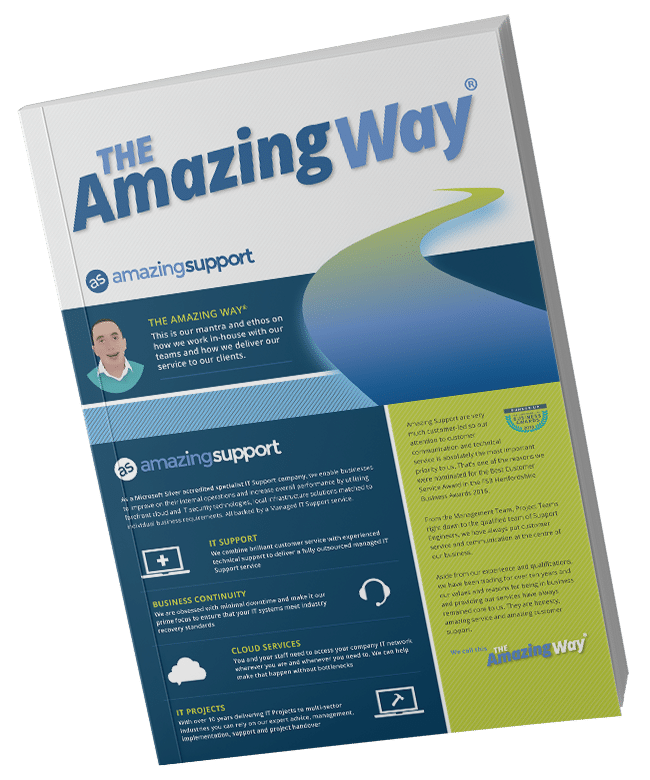 Find out how we deliver IT support the Amazing Way!
By downloading you agree to your data being passed to Amazing Support. For details on how we use it and keep it secure please see our Privacy Policy.
VMware services and products primarily address server virtualisation, network virtualisation, desktop virtualisation, and cloud management.
Server Virtualisation – With VMware's vSphere, you can enable multiple operating systems to run on a single, physical server. Doing so reduces your hardware costs, frees up resources on your servers, improves efficiency, and simplifies server sprawl.
Network Virtualisation – Network virtualisation allows you to run a virtual network as if it were a physical one. With VMware's NSX Cloud and NSX Data Center, you can integrate hybrid cloud networking and security into your operations, with the benefits of hardware independence.
Desktop Virtualisation – With desktop virtualisation, your business and IT functions will work faster and be more responsive. Virtualised desktops can be deployed easily, to different offices, remote workers, and even across some mobile devices. The Horizon digital workspace from VMware recreates the apps and programmes employees need to work anywhere, while remaining secure.
Cloud Management – Although VMware offers cloud solutions, it should be noted that cloud computing and virtualisation are not same technology. Virtualisation makes computing possible independent of physical infrastructure, whereas cloud-based services make computing possible via the Internet. VMware has multiple cloud solutions available for businesses, such as running hybrid environments with vRealize or building cloud-native apps with Tanzu.
Multitasking – Installing one or more virtual machines on your computer allows you to run several programmes at once, on different operating systems. This partitioning means you can work on several things at a time, as well as divide system resources evenly.
Accessibility – Storage and management of virtual machines are easy, since you can save the entire state of a virtual machine to your files to access for later. Like files, they can also be moved and copied.
Reduced IT Costs – With virtualisation, you reduce your spending on physical servers. You can run your application and operating system workloads on one server and use scheduling and partitioning constraints to make your computing environment more agile. This also speeds up processing and prevents unnecessary downtime.
Flexibility – Virtual machines are stored as a file on the hard drive, so you can install as many as you like with your preferred operating system. If you're running Mac OS but would like to use a Windows programme, you can run that programme on a virtual machine with Windows.
Secure Environment – Virtual machines also give you a layer of security. You can test new applications or system updates in a virtual machine, without causing potential harm to your computer.
Our Support Services for VMware
If you're unfamiliar with virtual machines, integrating them into your business and IT operations can be challenging. VMware is a leading provider of virtualisation services for businesses due to its variety of solutions and products. Amazing Support can help your business start running virtual machines to cut costs, improve efficiency, and secure your IT infrastructure.
We've helped many businesses, large and small, migrate to VMware systems and services. With VMware's many available solutions, it can be tough to know which is the best one for your organisation. With advice and consultation from our engineers and dedicated project managers, we'll help you optimise the use of virtual machines for your business.
For more info about other business applications and software we support, see our pages on Office 365, Dropbox Business, Microsoft Windows, Mac OS, Citrix, Accounting Platforms, and CRM.
Personally speak with one of our Directors to discuss your requirements
Complete this quick form and we will be in touch or contact us using: