Cloud Computing Solutions
Amazing Support provide bespoke cloud computing services to business all over London.
Cloud Computing Solutions London
Amazing Support provide bespoke cloud computing services to business all over London. Moving to the cloud can give your business a substantial boost, creating cost efficiency and greater staff productivity. The advantages of security and mobility are also far too great for London businesses to ignore cloud solutions.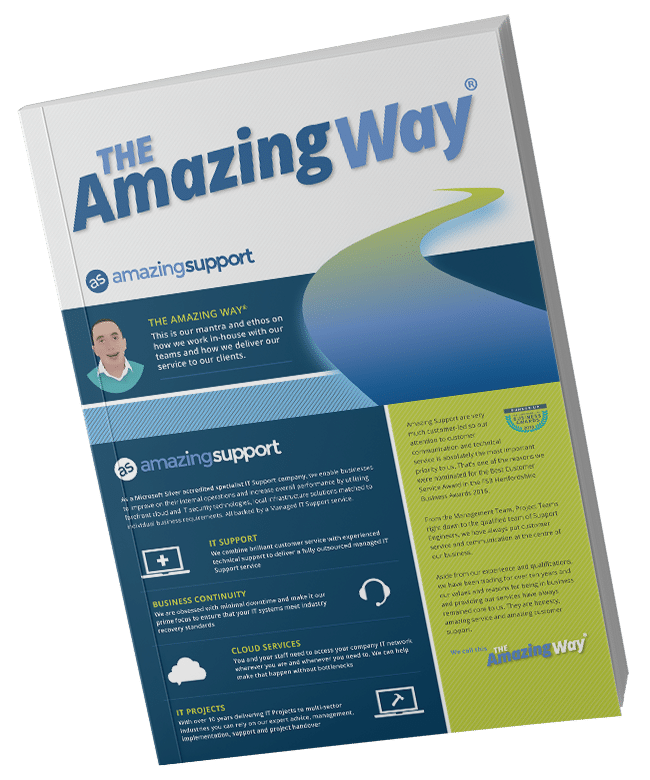 Find out how we deliver IT support the Amazing Way!
By downloading you agree to your data being passed to Amazing Support. For details on how we use it and keep it secure please see our Privacy Policy.
What Are Cloud Computing Solutions?
Cloud computing is the use and storage of data and computer resources without direct management by the user. Cloud computing can be broken down into three different types. There's virtual IT, which supplements a company's internal IT network from remote servers; software that can remotely host applications; and network storage. Instead of housing data in on-site servers, organisations can store it in large data centres, to retrieve and manipulate it at any time. These data centres typically have more advanced technology than on-site servers would, so they're able to manage and store large amounts of information.
Cloud computing solutions are techniques or services businesses and individuals can use to complete regular computing tasks or solve computing problems. These include server management and housing, data and machine storage, running your network over the Internet, or VoIP (Voice Over Internet Protocol, a method of IP telephony). By hosting some or all of your business solutions with cloud services, you reduce your need for on-site resources.
What Are the Benefits of Cloud Computing?
By reducing the size of your on-site infrastructure, you can save on costs. Hosting your services through the cloud guarantees that you pay only for what you need, and maintenance expenses stay low. In the same vein, you're given the flexibility to choose the services that suit your business.
With so many applications and services available, you can easily tailor them to your business. Perhaps you have a small team and prefer to keep your servers and network on-site, but you frequently make international video and audio calls, requiring VoIP. Or maybe your team is large and distributed across the globe, so your network needs to be fully operational via cloud services.
Indeed, by hosting your services and network on a cloud-based platform or infrastructure, you can optimise your team's collaboration and productivity. Staff can connect to your network and manage files from anywhere, on any device. The possibilities for business growth with cloud computing solutions are immense.
Which Cloud Computing Solution is Best for Your Business?
Some examples of the biggest cloud computing applications are Microsoft Azure, Office 365, VMware vCloud, Google Apps, Rackspace. Different models offer different services, which your business may or may not require.
There are software-as-a-service, or SaaS solutions, like Gmail and other Google products. The software you use is part of a larger platform, so some vendors offer platform-as-a-service or Paas products like virtual servers or operating environments. Finally, you can choose infrastructure-as-a-service or IaaS cloud computing solution, which deals with physical servers and other networking components. DigitalOcean is an example of both PaaS and IaaS cloud computing.
The cloud computing service that fits your business will depend on your IT needs. Some companies only house part of their functions with cloud services, others use full cloud management for all of their computing and IT requirements. Ultimately, you should consider the kind and size of files you'll be storing and sharing, how big your organisation is, and what your available bandwidth is. And these are only preliminary things to consider – there's much more to think about when developing your cloud IT infrastructure.
Amazing Support Provide Your Cloud Computing Solutions
Amazing Support will consult with you to create bespoke cloud computing solutions for your business. We offer services in email hosting, cloud infrastructure set up and management, and cyber security protection. See our pages about cloud email and cloud management for more about our these specific cloud computing services.
Personally speak with one of our Directors to discuss your requirements
Complete this quick form and we will be in touch or contact us using: