"DystO2pia" yesterday saw my wife and over 30m other people unable to check social media whilst watching TV for the first time in years! My wife was certainly at the top of the list of frustrated O2 customers!
Joking aside, the O2 network outage that affected O2 mobile users globally and by proxy, customers of their partner networks, Sky, GiffGaff, Tesco Mobile, London Bus Transport Service (are just some of the named brands that had services dependent on the O2 network) was extremely severe.
Although it wasn't as bad as the Blackberry outage in 2011 (if you can remember!) that affected 70m users globally for 3 days, which consequently wiped Blackberry off the mobile phone market and permanently damaged their sales and reputation. But O2 are now faced with a similar PR-clean-up and confidence building nightmare that Blackberry faced. And an apology from the Chief Executive of O2, Mark Evans today saying, "We've let our customers down" and claiming it was "a piece of software in our core network that failed", isn't going to cut it.
But a question that we should raise is, could this network outage be a potential reality and a frequent occurrence across all mobile & internet service providers post a deal and no deal Brexit?
We are living in a world of cutting edge technology, fast dependency on cloud services, huge development of smart home devices and increased demand on immediate speeds to connect to the internet for shopping and social media. We have already talked about the risk of 5G on cyber security as well as Brexit potentially causing a hightened exposure to cyber attacks on our blog in recent months. Therefore putting all of these factors together, we could be faced with similar repeating situations in the future if the UK government fails to achieve a positive Brexit result in terms of security, threat prevention and cyber protection.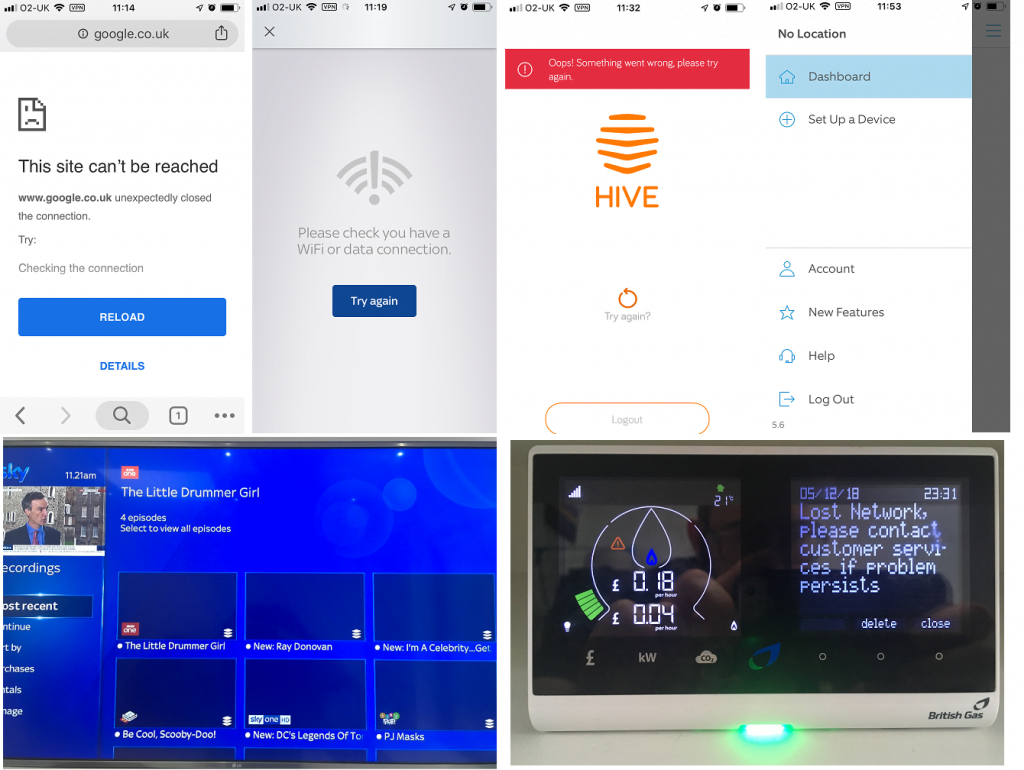 My house, for example, is pretty smart. I have the Ring video doorbell, the cameras, smart meter, Hive thermostat, Sky TV multiroom and I was down. Let alone everybody hashtagging #o2down, my house was down! Thank god I hadn't upgraded my front door to a smart lock otherwise i'd be locked out without a backup key or maybe it would have just been left completely unlockable! My old fashioned analogue mortise lock saved our family from marauders and opportunists!
A further excuse from O2 was released today, which I might add is in direct contrast to their previous reason, claiming that the outage was related to an expired certificate within the Ericsson network. As a fairly intelligent IT person would know, that is complete nonsense as that would not cause a network outage for 20 hours and is easy to fix. We also know, which has not widely been publicised, that there was a very powerful geomagnetic solar storm predicted for the same day as the network outage, that threatened a complete blackout for the UK. That would have taken out and disrupted huge amounts of unprotected hardware and at the moment, we are solely reliant on the Galileo Project to give us any early warning signs of dangerous space weather to prepare our network infrastructure equipment, which is currently approximately 3 days.
If we have a bad deal or no deal Brexit that does not include the use of Galileo, which the UK Science Minister Sam Gyimah said is likely to happen, even 3 days we will not receive. Of course, I am sure we might hear through the social media grape vine at peak times so we won't be entirely exposed! The US already have their own satellites orbiting the earth with early warning space weather systems built in, to give their nation a week to prepare, isolate and protect critical infrastructure. However, in terms of GPS services, the UK is currently reliant on Galileo to serve the entire country and military with satellite navigation. The US, India, Japan, China and Russia have also taken up all of the wireless frequencies in space required for satellite navigation. Oh dear. We understood that the Science Minister Sam Gyimah was confident he could negotiate with these countries to release some of those frequencies for us to use when we build our own GPS network and launch UK satellites into space. Now does that sound likely to happen? Mr Gymiah resigned a few days after talking about that claiming Brexit negotiations as the cause (where have we heard that before…). Not to mention, the UK is not in any position to spend money launching newly improved satellites into space due to budget constraints and are forced to rely on their ageing, wailing, out-of-date satellites moving forward that will not be able to properly serve us with effective satellite navigation that we are currently used to with Galileo.
We also know that network outages can be linked to hacking, cyber attacks, ransomware that can hold data to ransom, stop services and even crash hardware. Again, a very likely reason for the O2 network outage that has not been publicised. As mentioned in a previous blog article, leaving Brexit reduces our access to core EU security information, guidance and notification systems and also shifts our focus away from IT security onto financial matters leaving us exposed to cyber threats and IT security incidents.
So with our permanent reliance and addiction on 3G, 4G and soon-to-be 5G for technology communication and even for simple things such as online banking, GPS for maps and directions and being able to do business, we are exposed to any change in technology, interruption of reliant critical services and disruptive government decisions that affect our everyday lives to communicate with each other. We couldn't even make standard GSM calls yesterday at certain times (presumably due to high network demand) and millions of people missed meetings whilst others simply got lost, or asked for directions from strangers, or were forced to print out maps to get to their destinations. That is so 2000! but just as it is funny it's also extremely nerve wracking if that becomes the norm after Brexit.
If the final Brexit negotiation stages for technology access and security are not handled appropriately and for the betterment of public interest, then #o2down are hashtags that we will not only see reguarly, but we might not see any at all as a result of incomprehensible systems interruptions, wide-scale infrastructure outages, together with downtime of critical communication and severe internet service disruption.
To protect yourself and your business, Contact Us now! We are here to provide first-class IT Support.