We offer IT support to meet the specific needs of small to medium businesses by understanding your IT requirements.
IT Support for Business in London
We provide bespoke IT services to businesses across London and the home counties. We do more than just maintain your systems. We'll boost your business with our innovative and tailored solutions, creating cost efficiency and generating greater staff productivity.
When your business is competing in the London business environment, small advantages like these shouldn't be overlooked.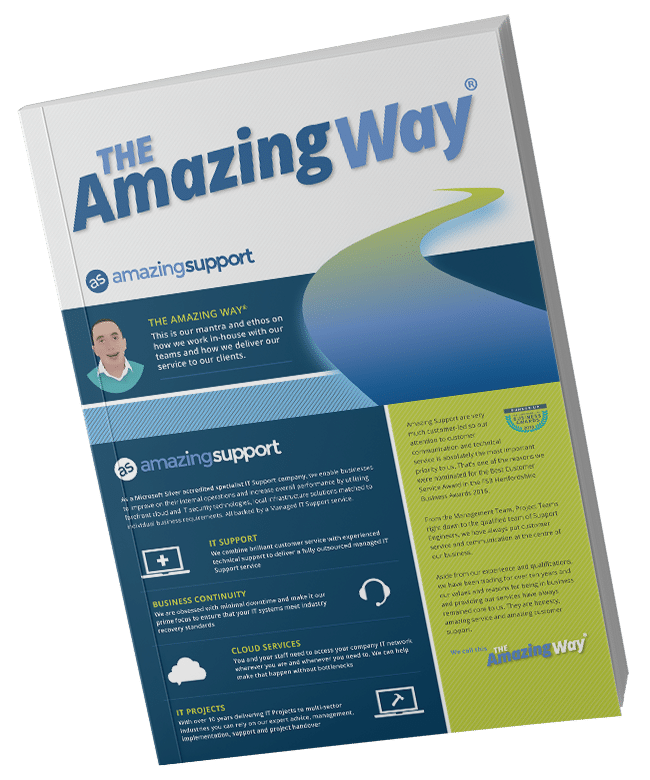 Find out how we deliver IT support the Amazing Way!
By downloading you agree to your data being passed to Amazing Support. For details on how we use it and keep it secure please see our Privacy Policy.
IT Support for Small to Medium Businesses
We work with small and medium businesses on a regular basis so we understand your unique challenges. SME's need bespoke, robust IT systems too, and we have the insights and experience to deliver it.
Even though we've worked with many SME's, we'll devise one-of-a-kind IT solutions for you, because no two businesses are the same.
Our Business IT Solutions
Our services will depend on your business needs, but we typically offer backup and disaster recovery, VoIP and telephony, cyber security, and cloud services to businesses. Amazing Support solutions are also tailored to your specific requirements.
Backup and Disaster Recovery
Cyber threats are prevalent and data breaches are common. SME's in particular are targets for digital attacks. But with the right protection from Amazing Support, you can keep your company safe.
VoIP and Telephony
VoIP is a better solution for the modern business than a traditional landline. We'll deliver a full VoIP solution for your business and maintain it so you can always stay connected to customers, colleagues, and vendors.
Cyber Security and GDPR
Today's companies can't run without secure data. With our managed IT services, we'll help boost your cyber security and keep you GDPR compliant.
Cloud Solutions
Working with the cloud increases productivity. We provide complete support for cloud installation and security so you can do business from anywhere.
Which IT Solution is Best for Your Business?
Different industries and sectors have different IT needs. Call centres need good VoIP telephony. Handling large customer databases requires industry-leading cyber security to protect against breaches and GDPR issues. Businesses of all sizes need backup and recovery plans in case the worst happens.
If you aren't sure of your company's IT system needs, we can give you our assessment. From our wide range of services, we'll help you decide which are the most relevant for your business.
The Benefits of Working with Amazing Support
We're an award-winning IT support provider in London with years of experience serving unique business requirements. Working with us allows you to tap into our expertise so you run efficient IT systems and ultimately, an efficient business.
Personally speak with one of our Directors to discuss your requirements
Complete this quick form and we will be in touch or contact us using: