IT Support for Financial Services
Amazing Support provides specialist IT support tailored for accountancy firms and the financial services sector.
IT Support for Accountants in London
We create bespoke IT solutions for accounting firms and financial services companies throughout London and the home counties. London's accountancy sector is competitive, so you need IT solutions that will put you ahead.
Our experts do more than just design and maintain your systems. We help your business grow by boosting productivity and creating cost efficiency. We want to give your business the advantages you need to compete in the London business environment.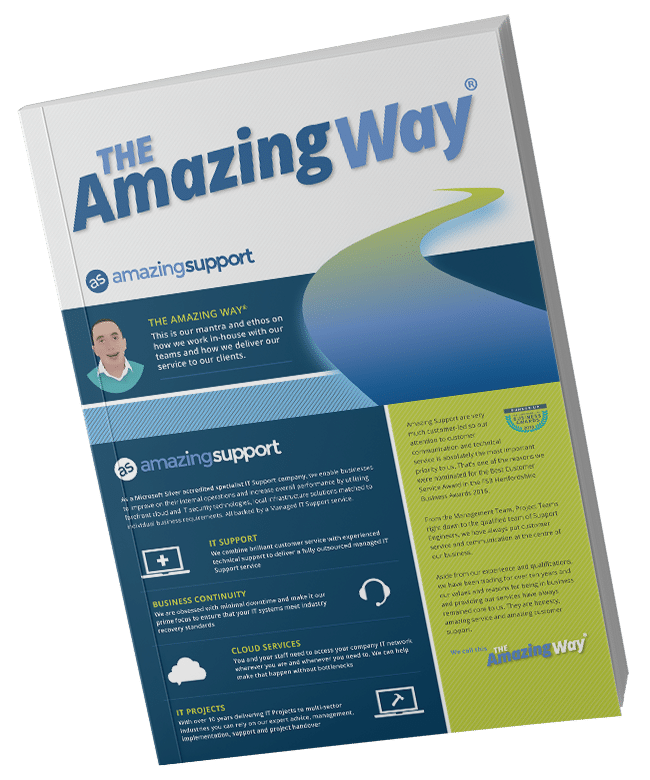 Find out how we deliver IT support the Amazing Way!
By downloading you agree to your data being passed to Amazing Support. For details on how we use it and keep it secure please see our Privacy Policy.
IT Support for Small to Medium Financial Services
Even small and medium businesses need robust IT solutions, and we happily provide them to financial services companies across London. As experts working with small to medium accounting firms, we understand the unique challenges you face running your business and we'll help you overcome them.
No two businesses are the same, so our IT services are always tailored to your business needs. We have your business growth in mind when we design our solutions so our services are scalable to your needs as your business changes.
Our IT Services for Accountancy Firms
Although our services vary by the business we're working with, many accountancy firms require backup and disaster recovery, VoIP and telephony, Cyber security and GDPR, and cloud solutions.
Backup and Disaster Recovery
We offer regular data backup, storage, and reporting, and will devise a disaster recovery plan to help your business get back up and running after an accident. Accounting firms need business continuity, and our backup services provide it.
VoIP and Telephony
Does your financial services firm need to stay connected with clients across the country and around the world? Internet-based telephony keeps you communicating with your clients and colleagues no matter where you are.
Cyber Security & GDPR
Accounting firms deal with privacy and sensitive data and must keep it secure. As cyber security experts, we'll help protect you from data breaches and cyber attacks, as well as keep you compliant with GDPR.
Cloud Solutions
Modern businesses run on the cloud. Access your important business documents from anywhere, whenever you need them with our bespoke cloud solutions.
Which IT Solution is Best for your Financial Services?
Different financial services businesses require different levels of support. If you handle customer data in a large database, you'll need industry-leading cyber security to prevent data breaches. Client-facing accountants need VoIP to stay connected. And all businesses, no matter their size or sector, need a data recovery and backup plan.
The best IT solution for your accountancy firm is the one that helps your business grow and lets you provide excellent service to your customers. We want to provide superior IT support to your financial services firm so you can provide superior service to your clients.
The Benefits of Working with Amazing Support
Amazing Support is an award-winning IT support provider with years of experience serving the unique requirements of small to medium accountancy firms in London. When you work with us, you'll have the benefits of our insights and experience coupled with our innovative approach.
Personally speak with one of our Directors to discuss your requirements
Complete this quick form and we will be in touch or contact us using: