IT Support for Financial Services
Stay compliant, protect your sensitive data, and gain the technical support needed to help your financial services business grow. Choose an IT support partner who understands the unique requirements of the financial industry.
IT Requirements for Financial Services
We create bespoke IT solutions for companies across the financial services industry, including hedge fund management, asset management, investment management, capital management, and wealth management firms. London's financial services sector is competitive, so you need IT support that will put you ahead.
At Amazing Support, we provide more than just maintenance and monitoring. With our outsourced IT services, we help your business scale. We look for ways to boost productivity and create cost efficiency. When you work with us, you'll have an award-winning technology partner who can help steer your company through the many requirements of the financial services industry.
When you partner with us, your business' IT systems will be in good hands. We're a Member of the UK Advisory Network and a Microsoft Silver Partner. Amazing Support has also won awards for IT support services, including at the FSB Hertfordshire Business Awards the Channel Futures MSP 501 for the EMEA region.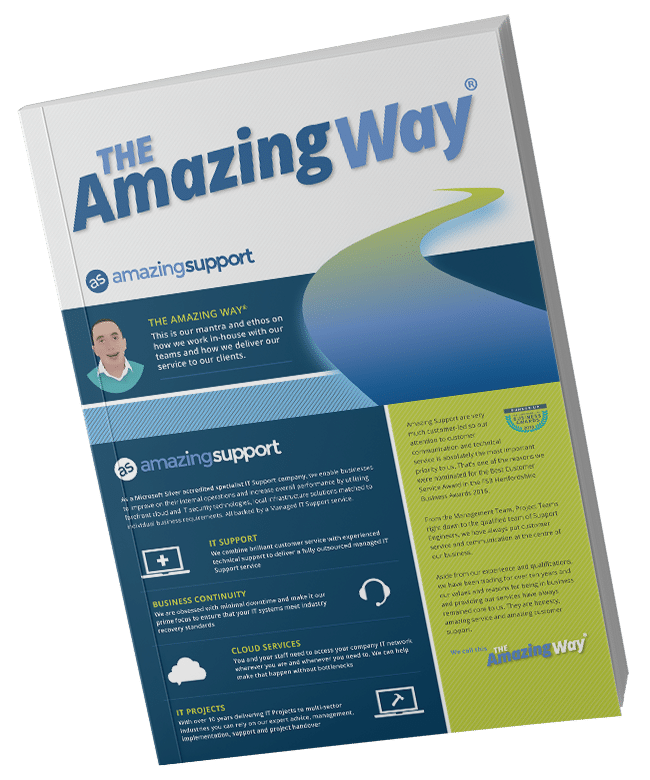 Find out how we deliver IT support the Amazing Way!
By downloading you agree to your data being passed to Amazing Support. For details on how we use it and keep it secure please see our Privacy Policy.
Outsourced IT Solutions for Financial Management
Companies in the financial services industry can benefit from outsourced IT support. Your hedge fund management firm can securely store all its data in the cloud, accessible to you and your team when you need it. An external IT support team can also develop backup and recovery options for capital and investment management companies, whether onsite or in the cloud.
By working with specialists in IT support for wealth management and other financial services companies, you'll also remain FCA compliant. Our experts can develop a business continuity plan that demonstrates your compliance and keeps your business going during a crisis.
Our IT Services for the Financial Sector
We provide a bundle of services geared toward the needs of companies in financial services. Our IT support services are scalable, so you can choose which ones you need as your business grows. Most companies in financial services benefit from FCA compliance solutions, cyber security services, backup and disaster recovery, and tools for business growth.
Backup and Disaster Recovery
In addition to keeping your data secure, we'll also ensure it's accessible when you need it and recoverable should a disaster happen. Your wealth management firm can't afford any downtime when your clients are depending on you. With regular backups and a robust recovery plan, your company will be back up and running quickly. We'll also create your business continuity plan to keep you compliant with FCA regulations.
We only work with backup solutions that use certified data centres and several options for encryption, so we can cater the service to your needs. We can also provide cloud, hybrid, and onsite backups that require extra multiple layers of authentication.
FCA Compliance
Regulatory compliance is vital for companies in financial services. Our experts understand these regulations and know how to configure your technology and data systems to keep you compliant.
Our FCA compliance services include a package of regulatory document templates, regular access to our helpdesk, compliance monitoring, a risk framework, cyber security advice, financial promotion reviews, compliance training and testing, and more.
We take compliance for your investment management firm seriously. We never recommend IT support solutions that would clash with your compliance framework.
Cyber Security
Protecting your sensitive data is one of your key concerns as a wealth or asset management company. Your clients also rely on you to keep their data safe. The damages you can suffer from a data breach are monumental, both financially and reputationally.
We specialise in cyber security and take part in the UK's Cyber Essentials scheme, so we can offer industry-leading advice for your capital management company's cyber security measures. We'll also devise a security policy for your business. As cyber criminals often gain unauthorized access to your data via people and not systems, we can also provide cyber security education and training sessions for your employees.
Business Growth Solutions
Our technology solutions are designed to help you grow your business. We don't only concern ourselves with IT support, we also communicate with you regularly to discuss your business goals and growth opportunities. We want to devise technological solutions that address all areas of your business, not just your IT systems.
In addition to backup and recovery, compliance, and cyber security, we can also help you develop solutions for your sales and marketing teams. If you're aiming for greater efficiency across your entire organisation, we can look at that too. You can think of Amazing Support's outsourced IT experts as your partners in business development.
Which IT Solution Is Best For Your Financial Services?
Hedge fund managers, asset managers, investment firms, and wealth management companies require specific IT solutions. With an increased emphasis on security and scrutiny in today's financial services industry, you need a corporate-level approach to IT management that's scaled to your small or medium sized business.
Our services provide the quality and expertise of an in-house IT team on a much more manageable scale. Smaller financial services companies and even individual hedge fund managers don't always need full-scale expertise, so we provide a suite of IT support services when and however you need them.
The Benefits of Working with Amazing Support
With years of experience serving small to medium sized financial services companies in London, we've developed the technical knowledge to support your business effectively. Hedge funds, asset management, investment management, wealth management companies and others in the financial services industry can rely on our expert insights coupled with an innovative approach to outsourced IT support.
Personally speak with one of our Directors to discuss your requirements
Complete this quick form and we will be in touch or contact us using: