Office Moves & IT Relocation
Let us help make your office move or re-shuffle as stress free as possible with expert help and advice for moving your IT systems
Office Moves & IT Relocation
Moving to a new office is a huge hassle, especially when it comes to your IT relocation. Ensuring your IT infrastructure gets safely from one place to another presents logistical and security challenges that are often beyond most businesses. That's why Amazing Support offer Office Moves and IT Relocation as part of our broader IT Consultancy services.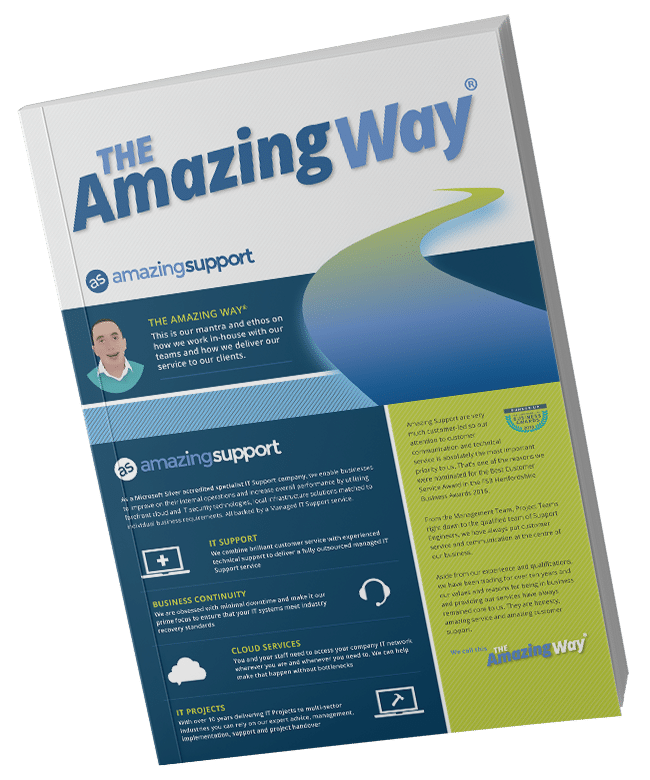 Find out how we deliver IT support the Amazing Way!
By downloading you agree to your data being passed to Amazing Support. For details on how we use it and keep it secure please see our Privacy Policy.
Our IT Relocation Services
Amazing Support provide a suite of services for office IT relocation. Like all of our IT services, each solution is scalable. You can request as little or as much as your business needs require.
Office Moves – If you need your IT equipment moved to your new office space, we can strategically relocate it for you. By auditing your current setup, we ensure that all computers, accessories, servers, and other hardware are placed in the same configurations in your new office.
Office Removals – You might have redundant IT equipment or need to shut down an old office entirely. We can handle the safe recycling and disposal of your old IT equipment, ensuring all your important data has been sufficiently wiped before we dispose of it.
Cable Management – We can help clean up cables in your data centre, preventing hazardous trailing cables in the workplace. If you're relocating your data centre or comms room, we can label and re-install your cables in their new space.
Secure IT Storage – In the process of moving, you want your IT equipment to stay safe. When we relocate your hardware, we store it safely in flight containers so it won't be damaged in transit to your new office.
Data Erasure – When relocating offices, you might need to wipe the data from your hard drives, removable media, or mobile devices. We also provide secure solutions for data erasure. You can be confident your data has been properly removed, adhering to national and international privacy regulations and safeguarding employee rights.
The Benefits of Our Office Moves & IT Relocation Services
Why choose Amazing Support to coordinate your office move and IT relocation? You're assured of secure relocation, data protection, and minimum downtime.
Secure Office Relocation – Moving your IT equipment, servers, or data centre from one physical location to another has potential security risks. Office removals could also leave your data open to vulnerabilities. We relocate your IT infrastructure in the strictest security, ensuring that everything stays in the same condition as we found it. And if you require us to dispose of your current IT equipment, we're certified to carry out secure disposal as well.
Your Data is Protected – Relocation of your IT infrastructure involves relocating your sensitive business data as well. We store and track everything we move, so your data-bearing assets are completely accounted for from the moment they leave your old office until they arrive in your new one. You don't have to worry about data loss or breaches with secure IT relocation services.
Minimum Downtime – Hiring an IT support company to complete your office relocation reduces the time your company is offline. Rather than handling the move yourself, you can trust experts who work with sophisticated IT systems and infrastructure each day. We're qualified to handle your hardware properly and efficiently, so you don't lose productivity during your office relocation.
Your Partner for Office Moves and IT Relocation
We've helped many businesses complete office relocation, successfully transferring their IT infrastructure from one office space to another. Amazing Support have the expertise to help your business too. For more info on our IT Consultancy services, see our pages on Cyber Security Consultancy, IT Transformation Consulting and Virtual CIO.
Personally speak with one of our Directors to discuss your requirements
Complete this quick form and we will be in touch or contact us using: