A complete service designed to help solve your users' problems directly, and provide answers to their questions.
Large and small businesses across London and Hertfordshire have chosen Amazing Support as their IT support provider because of our commitment to customer service and scalable IT solutions. With our advanced IT Helpdesk and Service Desk Ticket Management System, organisations have our best help resources at their disposal.
With both our outsourced IT and managed IT services, companies have the expertise of our IT engineers on call, via our Helpdesk. Our sophisticated help and monitoring tools allow us to provide IT support the Amazing way.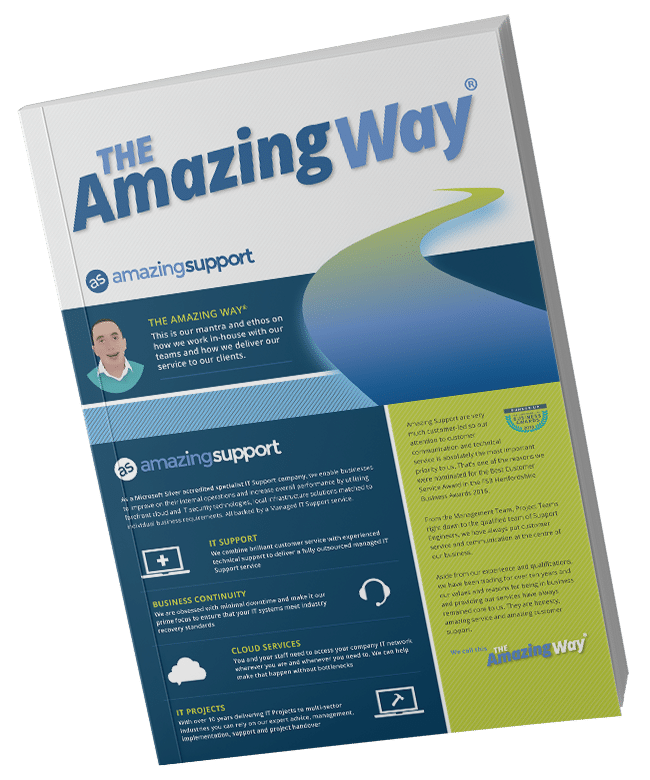 Find out how we deliver IT support the Amazing Way!
By downloading you agree to your data being passed to Amazing Support. For details on how we use it and keep it secure please see our Privacy Policy.
What Does an IT Helpdesk Do?
A Helpdesk is a single point of contact for users to access IT support. The helpdesk is primarily reactive, responding to users' requests for assistance and resolving problems directly. Helpdesks typically run using tickets, with automated ticket tracking, routing, and email notifications. Users can communicate with IT support via a helpdesk in a variety of ways – email, phone, website, or online chat. A helpdesk is usually intended as an internal help solution, for employees within an organisation.
The Amazing Support Helpdesk that you have access to when you engage either our outsourced or managed IT services operates on levels. The first level handles common questions, like topics you'd find in an FAQ section. If your issue is more specific, it'll be escalated to level 2, which is set up for our expert IT engineers to handle your complex queries.
What's the Difference Between a Helpdesk and a Service Desk?
The terms helpdesk and service desk are often used interchangeably. They don't function in exactly the same way, however. Helpdesks are designed for solving users' problems directly, providing questions to answers. They may even have self-service options for users and tend to be reactive.
Service desks, on the other hand, have broader functions. Rather than focus solely on user needs, service desks look at the business needs of an organisation. Service desks may contain a helpdesk component, but they're generally geared toward improving and optimising IT processes. For this reason, service desks are considered more proactive than reactive.
What Makes Amazing Support a Leading IT Support Provider in London?
The Amazing Support Helpdesk, which gives you full, unlimited access to our IT support experts, incorporates elements of both a helpdesk and service desk, explained above. Depending on your business needs we can either provide a basic incident management solution, or consult with you on a broader, more integrated approach.
By working with Amazing Support, you have the benefit of our expertise. This extends beyond IT expertise, as all of our staff are customer service champions as well. In addition to unlimited Helpdesk access, you'll have our rapid response times, a dedicated account manager, and proactive monitoring of your system.
You can expect all of these benefits from Amazing Support. But what really makes us stand out is our commitment to flexible business solutions and expert team of cyber security professionals. At Amazing Support, we're invested in the progress and efficiency of your business, more than just providing IT support.
What Do Our IT Support Contracts Include?
Our IT solutions are fitted to your business needs. Amazing Support provides general IT support, cloud services, managed IT services, and IT consultancy. In the area of IT support, we offer advanced IT system monitoring, including server monitoring and implementing backup tools. We also provide IT infrastructure management.
With our outsourced IT support services, we provide expert support, patch management, anti-virus checks, and cyber security protection. With our general IT support, you may also be interested in our employee IT education, which brings your team up to date on IT and cyber security solutions and interface. Visit each of our IT support pages to learn more about the services we provide.
Personally speak with one of our Directors to discuss your requirements
Complete this quick form and we will be in touch or contact us using: