Providing professional outsourced IT support to help businesses who don't require an in-house team
Outsourced IT Support London
Many companies and organisations in London are realising the benefits of outsourced IT support. Outsourcing these services allows you to craft flexible solutions to your IT needs and stay ahead of the latest digital trends.
Amazing Support are a leading IT support company in London, providing flexible outsourced IT services to companies big and small. With our outsourced IT support, you'll have access to a remote team of IT engineers, as well as a dedicated account manager.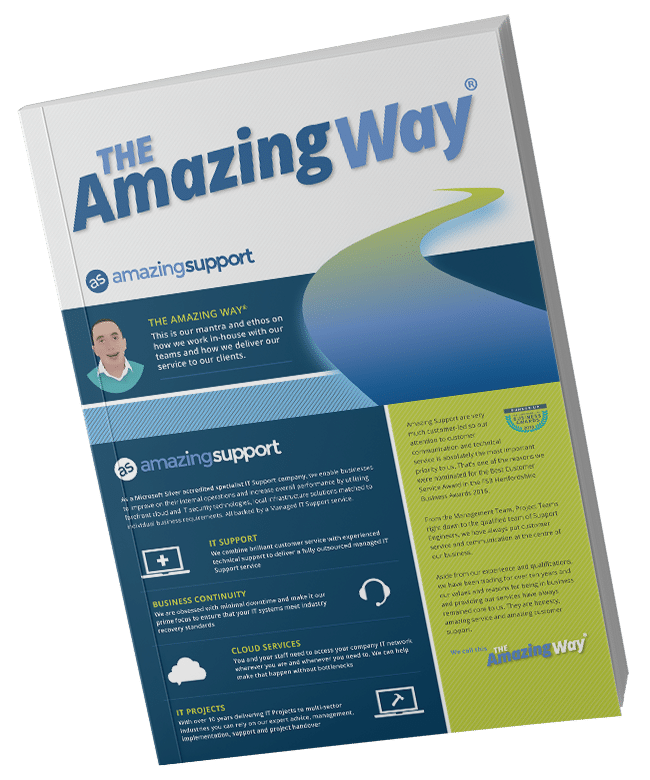 Find out how we deliver IT support the Amazing Way!
By downloading you agree to your data being passed to Amazing Support. For details on how we use it and keep it secure please see our Privacy Policy.
What is Outsourced IT Support?
Outsourced IT support is an IT company providing all or part of a business' IT services. When you use an IT support company to run your IT department either fully or in part, you're making use of outsourced IT support. You may also outsource IT specialists as consultants on a special project.
At Amazing Support, we provide scalable IT outsourcing for businesses of any size. If your needs require, you can rely wholly on our remote team for your IT infrastructure. Or you can utilise our services in cyber security as a complement to your in-house IT department. We're a leading provider of IT support in London because we offer flexible solutions. If your business grows and you need more support services, we can scale up our offering. Our expert support is always centered on the needs of our clients.
Why Should You Outsource Your IT Department?
There are several benefits to outsourcing your IT department. With Amazing Support, you'll have unlimited access to our Helpdesk – 24/7. Should problems arise, our remote team will be ready to handle it. We also provide proactive monitoring, to detect issues before they can occur. By addressing problems quickly, we reduce downtime for your business.
Working with Amazing Support for your outsourced IT also gives you access to an accredited Microsoft Silver Partner. Our expert support also comes with an account manager, assigned to each client. Your account manager is your main point of contact with us, streamlining communication and allocating the necessary resources to resolve your problems.
Expert Support - Patch Management, Anti-virus Checks, and Cyber Security
When you choose us for your outsourced IT, you'll have access to our specialised IT engineers. They carry out patch management, anti-virus checks, and cyber security on your systems. With our IT monitoring, we keep all your software and operating systems up to date. As accredited specialists, we're always aware of the latest patches and updates from major vendors.
We also run anti-virus checks regularly, providing you with detailed reports of your systems. Patch management and anti-virus reports are part of our larger cyber security scheme. Amazing Support have dedicated cyber security professionals apart from our IT support staff. Our cyber security experts specialise in keeping your systems, workstations, and networks secure, protecting your business from digital attacks and doing regular backups. Apart from our outsourced IT services, we also run employee educational programmes on cyber security, should your business feel the need.
Efficiency and Expertise of Outsourced IT Services
Outsourcing your IT department is a cost-effective move for your business. By working with us, you reduce your internal staff costs. You can also formulate a contract with us that will meet your specific business needs, based on your expenses. As we mentioned, our services are scalable. So we can increase our IT support should your business start growing.
By working with our IT specialists, you'll also boost productivity. You won't have to invest in training and developing your internal IT department. You can focus on your business, while we handle the IT network and infrastructure. And with access to our Helpdesk, you'll never have to wait for our response.
Personally speak with one of our Directors to discuss your requirements
Complete this quick form and we will be in touch or contact us using: