So you've designed a new website, written the content and the site's now gone live. That's your website done, right? Well not even close!
Keeping your website fresh with new content frequently is a key method in attracting not only new customers, but it ensures that you're keeping your existing ones and search engines updated with relevant information.
[divider]
Why do you need to update website content regularly?
Below are 3 key factors why having your website updated with regular, fresh, new content is so important.
1. To increase visibility on search engines
This is one of the most important reasons for keeping your website updated. Search engines love websites that change and add content regularly.
They consider the ones with the most recent content and regularly updated articles as the most relevant to search results and these websites are more likely to see higher visits and better inbound performance from search engines as a consequence. A considerable value is put on to be seen as credible, as an expert and as a useful source of information, as search engines such as Google absolutely relish this.
Therefore, if you neglect your website you will not only start to move down the search engine rankings quite quickly, but you also run the risk of competitors winning your business.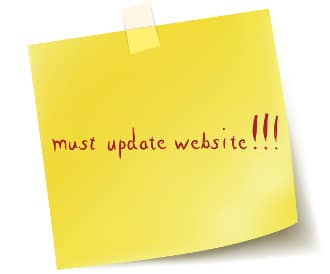 2. To be seen as relevant and current
If your latest blog posts and company news is from 3 years ago, your website visitors and readers will think that either your company has not transacted much work since then (so why bother calling you), or worse, you might have gone out of business (so why bother calling you!).
Let your existing and new customers know that your company has relevant news to talk about and useful information to help them to ensure you don't block potential new leads coming through to your website.
This also, as mentioned in point 1, is absolutely inherent to maintaining and improving your search engine results rankings.
3. To receive inbound visits and enquiries
You might have now realised that all 3 points are intrinsically linked with each other!
The fresher, dynamic and current your content is (guides and how-to's, articles, images, videos, interactive content, infographics), the more likely people and search engines are to notice, visit, store your website's information and discuss it. Frequency of change content is absolutely linked to relevancy and clicks through to your website.
You also want on social media networks people to link, share and comment on your articles as the more often this occurs, the more visits you will receive. This is because if people are linking, sharing and commenting on your content you are seen as credible and relevant by others (there is nothing better than other people sharing your content to search engines as well) and in turn your exposure is maximised as your content reach to your audience increases.
Ultimately from this, the higher you will be perceived by search engine rankings as relevant and people alike and the more enquiries you are likely to receive in return.
[divider]
Keeping your website content updated will help you receive a reciprocal relationship with search engine results, existing and new website visits, on-page attraction and audience retention, social media engagement and ultimately a sales return on your money and time investment.
Our Digital Team can help keep your website and social media platforms updated with relevant and fresh content so that you can spend more time running your business. Contact us on 0203 728 2555 or click here and we can explain how we can put a website maintenance plan in place.