Switching IT Support Partners
Switching from your previous IT support supplier to partner with us doesn't have to be stressful!
Switching IT Support Providers
If you're unhappy with your company's IT support provider, then you should switch. It sounds simple, right? But migrating your IT system to a new provider can be a big undertaking. If you do plan to make a switch, you should ensure your new IT partner is equipped to handle the transition and provide full support right from the start. Amazing Support can guide you through each step in this process.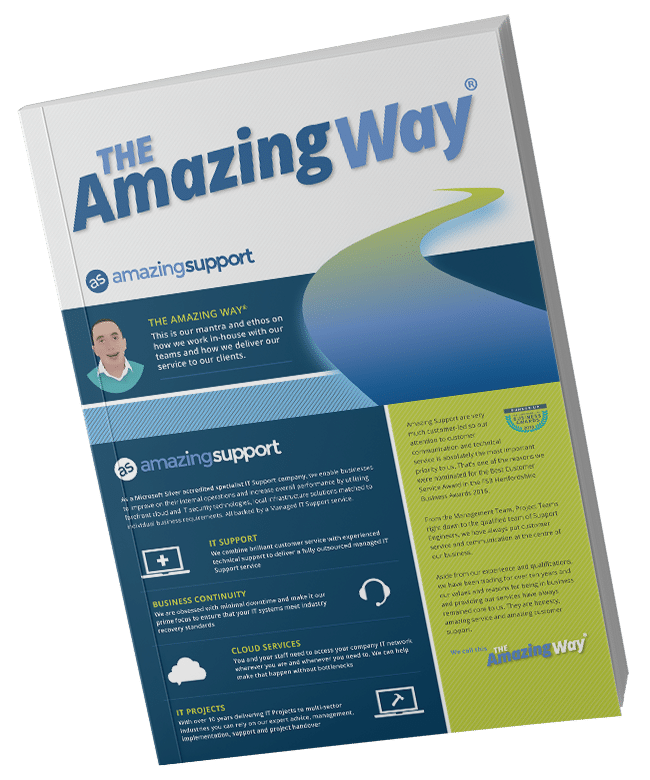 Find out how we deliver IT support the Amazing Way!
By downloading you agree to your data being passed to Amazing Support. For details on how we use it and keep it secure please see our Privacy Policy.
Why Switch IT Support Providers?
Your business could have several reasons for switching to a new IT support partner. Perhaps your current partner has slow response times, you're unhappy with the level of service, your SLA may not be met, or you're expanding your business and want a partner that can grow more readily with you. It might also be poor account management or not staying up to date on the latest technology. It's also possible they just have poor customer service too.
If any aspect of your current network support disappoints you, then don't hesitate to consider switching. Setting up with a new IT support partner is simpler than you think, so you shouldn't feel as though you're stuck with your current provider. You should have IT infrastructure and support services that are fully scaled and tailored to your business needs. If your current IT partner is failing to provide that, then you have other options.
The Benefits of Switching IT Support Partners
Switching your managed IT support provider means getting the coverage your business needs. When you switch to Amazing Support, you can choose from among our range of services and consultancies, including IT System Monitoring, IT Infrastructure, IT Helpdesk, Cloud Computing Solutions, Cloud Email, Cloud Management, Cyber Security and GDPR, Network Support Services, Backup and Disaster Recovery, Virtual CIO, and others. You'll also have access to the popular business applications we use, like Office 365, Dropbox Business, VMware, and Citrix.
Choosing only the services you require also leads to cost-savings. If you're paying too much for IT services you don't even use, then you'll significantly benefit from switching. Amazing Support has bespoke, scalable solutions for your IT network and infrastructure. When you switch to our services, you can choose what you need at present. You'll always have the option to add or remove services in the future should you desire.
Is Switching to a New IT Support Provider Difficult?
If the thought of migrating your company's IT system to a new provider makes you anxious, we understand. But with today's cloud-based network support and IT infrastructure options, like storing your data in the Microsoft Cloud, you have nothing to fear when switching. Amazing Support has developed a seamless on boarding process for new clients, with dedicated project managers to oversee the migration.
Our attention to detail won't stop there, however. Once you're set up with Amazing Support as your IT support partner, we'll monitor your network and infrastructure regularly to identify any issues. You'll also have access to our Helpdesk right from the start.
What to Do if You're Thinking of Switching IT Support Providers
Before switching, make a list of your complaints with your current IT partner. Be specific and try to use examples if they're relevant. With this list in hand, you have a clearer picture of what's not working. You also have a good rundown of your IT infrastructure needs. When you decide to switch, keep this list ready to present to potential new IT support partners. The transition will go much more smoothly.
Switching your IT support provider is a big decision and shouldn't be taken lightly. At Amazing Support, we know this, which is why we strive to make the migration to our systems as streamlined as possible. For more information on our managed IT services, see our pages about IT Security and GDPR, Network Support Services and Switching IT Support Partners.
Personally speak with one of our Directors to discuss your requirements
Complete this quick form and we will be in touch or contact us using: