Supporting your accounting platforms whilst providing integration support to build key features into your business systems
Your business wouldn't run without a proper accounting platform. As a vital part of your operations, you need your accounting software to function adequately. Bugs or tech issues result in downtimes that can throw your accounts receivable, accounts payable, and payroll into disarray. By calling on Amazing Support consultancy services for accounting platforms, you can keep these problems at bay.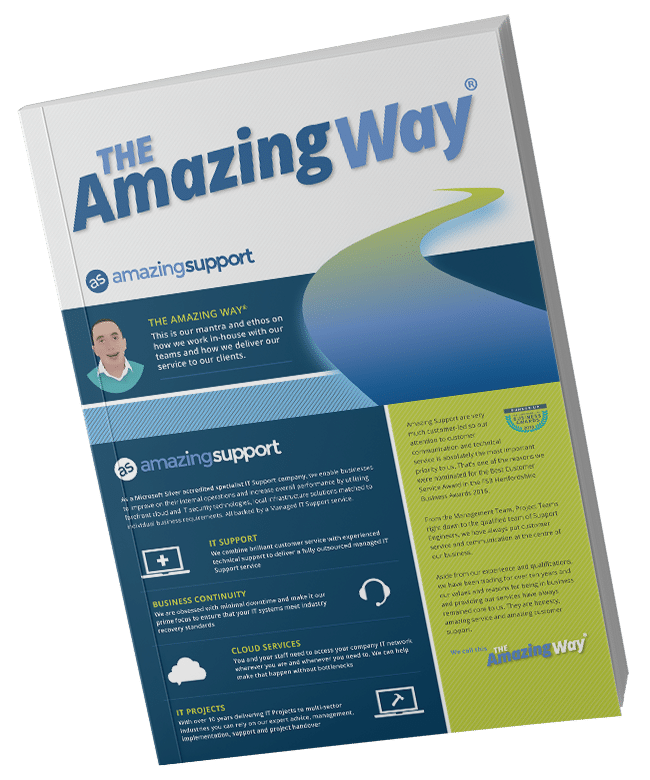 Find out how we deliver IT support the Amazing Way!
By downloading you agree to your data being passed to Amazing Support. For details on how we use it and keep it secure please see our Privacy Policy.
Essential Features of an Accounting Software
Many accounting platforms are on the market today, and choosing the right one for your business is of the utmost importance. When looking for accounting software, keep these four main aspects in mind.
Accounts Receivable – When it comes to keeping track of what customers owe, some important features your accounting platform should have is invoice processing, automatic invoicing, and payment processing. Creating, tracking, sending, and printing invoices is the most basic function of any accounting software, and automatic invoicing and online payment processing make invoicing even easier.
Accounts Payable – Your accounting platform should be able to handle purchase orders, vendor credit memos, automatic payment, and tax forms. With these features, you can keep your payments organised and stay compliant with appropriate tax laws.
Payroll – The best payroll features are variable wage schedules, direct deposit, automatic tax calculations, and expense reimbursements and deductions. Some accounting software has sophisticated payroll systems, with calculating hours and processing wages completely automated.
Banking – At the minimum, your accounting software should link to your company bank account so you can see cash going in and coming out in real-time. Other features to look for are account reconciliation, bank deposit prep, and cheque handling.
Reporting – Not all accounting platforms offer reporting features, but those that do will give you valuable insights into your bookkeeping. The most basic will offer income statements to show profit and loss, balance sheets to show assets and liabilities, cash flow statements, and summaries of accounts receivable, accounts payable, and payroll.
The Most Popular Business Accounting Platforms
Amazing Support provide IT support and consultation on common accounting platforms. Our specialists will not only help you resolve tech issues with your bookkeeping software but also recommend which software would be best suited to your business. We support the five popular software below, as well as others.
QuickBooks – As one of the most popular accounting platforms available today, QuickBooks is easy to use, affordable, and customisable. QuickBooks is widely used by professionals in the UK and it has plans geared toward any size business, from self-employed to growing SME's.
Sage – Another of the popular options out there on the market, and highly comprehensive which makes it perfect for more in-depth accounting requirements.
FreshBooks – For the strongest invoicing feature for your business, FreshBooks is an ideal option. FreshBooks isn't as comprehensive as other accounting software, but it's intuitive and accessible.
Xero – The best cloud-based accounting solution is Xero. It integrates with more than 700 apps and fits seamlessly with a modern, IT-transformed workplace.
If your business uses one of these software or another popular accounting application, we can provide the IT guidance you need to keep it running.
Amazing Support Services for Accounting Software
Your accounting software is one of the most essential parts of your business. You don't want to make a hasty or ill-informed decision that you could regret later. Amazing Support can help you select a platform that works for you. And if you require extra IT support to manage your current accounting software, our experts can consult with you, providing the assistance you need.
Personally speak with one of our Directors to discuss your requirements
Complete this quick form and we will be in touch or contact us using: