Supporting, migrating, and troubleshooting all Windows applications – Microsoft Silver Partners
Microsoft Windows 10 is the most widely-used operating system in the business world. Companies large and small rely on its many features, services, applications, and programmes to keep their operations running. As part of our support and management for common business applications, Amazing Support helps migrate your business to the latest version of Windows and provides specific support and consultation regarding your operating system.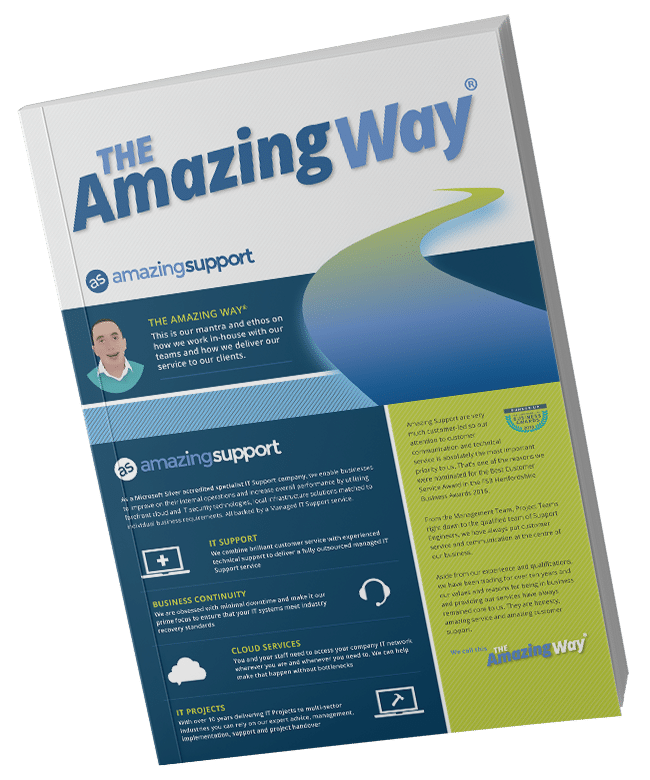 Find out how we deliver IT support the Amazing Way!
By downloading you agree to your data being passed to Amazing Support. For details on how we use it and keep it secure please see our Privacy Policy.
Microsoft Windows 10 Editions and Features
There are three editions of Windows 10 for businesses to choose from: Windows 10 Pro; Windows 10 Pro for Workstations; and Windows 10 Enterprise.
Windows 10 Pro – Windows 10 Pro is Microsoft's baseline OS for businesses. Windows 10 Pro comes pre-installed in most business devices and has features geared toward professional use. It integrates with Microsoft Edge, Cortana, and Office 365 for enhanced productivity and enables Hybrid Azure Active Directory Join and the Microsoft Store for Business for flexible management. Windows Defender Antivirus, password-less login with Windows Hello for Business, and BitLocker for securing device access also make up some of Windows 10 Pro's intelligent security features.
Windows 10 Pro for Workstations – Windows 10 Pro for Workstations has most of the same features and applications as Windows 10 Pro, but was developed with data needs in mind. Businesses that have large data workloads, like data scientists, researchers, or media production teams might find Windows 10 Pro for Workstations a better option. It has better built-in security with Resilient File Systems, as well as enhanced productivity features like Persistent Memory and SMB Direct.
Windows 10 Enterprise – Windows 10 Enterprise is geared toward large and midsize organisations, including more security, productivity, and management features than Windows 10 Pro or Windows 10 Pro for Workstations. Enterprise has two versions, E3 and E5, with E5 offering more security features than E3. If you choose Enterprise, it won't come pre-installed and you'll have to buy licenses in volume. With features like Microsoft Application Virtualization for user flexibility, Desktop Analytics to manage system updates, and Microsoft Defender Advanced Threat Protection, Windows 10 Enterprise can handle any of your large business needs.
The Benefits of Microsoft Windows 10
Improved Operating Speed – Windows 10 was designed for high-speed performance and it's a significant improvement over previous versions Windows 7 and Windows 8.1. Shorter start-up time makes for a more user-friendly experience.
Better Usability – The latest version of Microsoft Windows targets usability. With the Universal Windows app feature, it's possible to access Windows 10 across multiple devices. The cloud support for the Azure Active Directory also makes Office 365 cloud access much simpler.
More Secure – Windows 10 has several security measures to keep your business' data and operations safe from cyber attack or vulnerability. With features like Advanced Threat Protection built in, you won't have to spend extra resources on adequate cyber security.
Cortana – With Microsoft's assistant Cortana, businesses can take full advantage of the voice command in Windows 10. Using Cortana to launch simple tasks can greatly improve your staff's productivity.
Cost-Effective Scalability – Microsoft Windows 10 has different service levels and monthly subscription options available, so you can purchase only the features and applications you need. If you require more support as your business expands, you easily add to your current plan.
Amazing Support – Your Microsoft Windows Partner
We've provided Microsoft Windows support and consultation services to many businesses across London. If you're migrating to Windows 10, looking to optimise your current Windows service level, or need Windows-specific guidance, our engineers are available to help. For more info about the business applications we support, see our pages on Office 365, Dropbox Business, VMware, Mac OS, Citrix, Accounting Platforms, and CRM.
Personally speak with one of our Directors to discuss your requirements
Complete this quick form and we will be in touch or contact us using: