Providing workshops, online learning and more to keep your staff up to date with IT and cyber security technology
Employee IT Education in London
As the need for more complex IT infrastructure grows for today's businesses, the importance of employee IT education cannot be overstated. At Amazing Support, we set organisations up for success with our employee education services. We can teach your staff members all about cyber security, protecting your sensitive data and increasing company efficiency.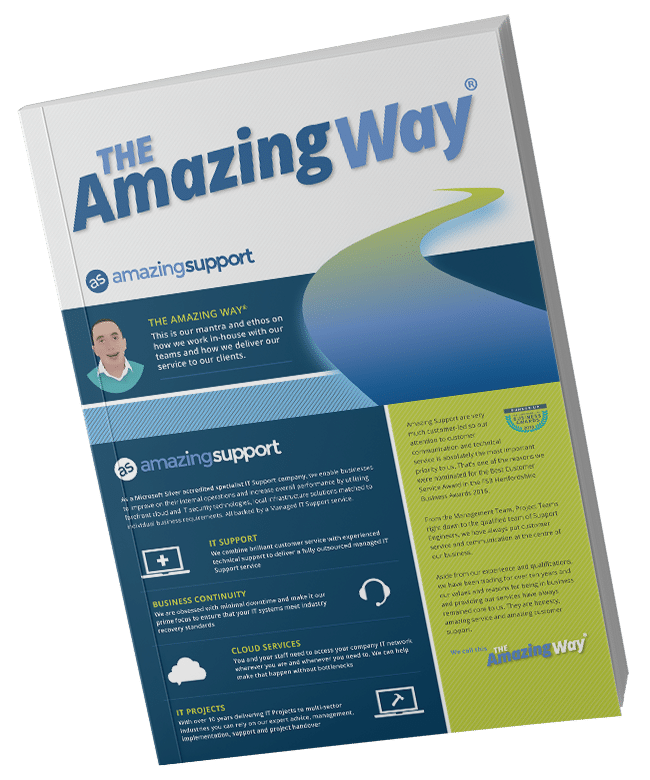 Find out how we deliver IT support the Amazing Way!
By downloading you agree to your data being passed to Amazing Support. For details on how we use it and keep it secure please see our Privacy Policy.
The Benefits of Employee Education
Employee education is a worthwhile venture in any industry, not just IT. In today's job market, candidates are looking more and more for valuable job experiences that will help them grow professionally. Investing in employee educational programmes and training can benefit both your staff and your business.
Self-Confidence – Employee training can help your workers develop self-esteem. When you provide them with the tools to advance, your team will be more confident in themselves. They'll also use those self-development resources to grow their skills, contributing more to the company at large.
Productivity – Another important employee education benefit is increased productivity. By allowing your employees the chance to widen their skill-set, they can take on greater tasks and responsibilities. In addition, well-trained workers who excel at their jobs are much more likely to be productive than ones who are untrained and apathetic.
Lower Staff Turnover – Additionally, by fostering professional development in your staff, you'll have lower turnover. If you educate your current team to have them assume more responsibilities in different areas, your need to hire more staff will decrease. Employees that are trained and have a chance to grow are also more likely to stay with your organisation longer.
Why Should You Invest in Employee IT Education?
Clearly, employee education is important. And in the IT support field, it's even more vital to your staff's efficiency. In today's digital age, the latest technologies roll out at an unprecedented pace. For those who aren't IT specialists, it can almost seem overwhelming trying to keep up. But since a solid IT infrastructure is the cornerstone of any successful business, you can't afford to fall behind.
Staff members who don't understand how IT processes interact with their everyday job duties can slow down productivity. That's why coaching your employees on how to maximise their use of your IT system is essential for your company. While relying on IT experts like the engineers at Amazing Support can help you optimise our system to its fullest potential, having to call a specialist for every daily task won't.
Teach Your Staff About Cyber Security
In addition to productivity, another consideration for employee IT education is teaching your staff the basics of cyber security. Defence against cyber attacks has advanced considerably in recent years, but cyber criminals continue to find ways to bring networks down and steal sensitive data. They're able to do this by relying on a very fallible component of your IT infrastructure – human error.
No matter how secure your firewall is or how many anti-virus checks you run, the people using your system still have the potential to commit errors. Cyber attacks that incorporate social engineering are both prevalent and dangerous. With employee IT education, we'll ensure your staff knows the ins and outs of staying safe on your network.
What Does Our Employee IT Education Include?
If you're interested in Amazing Support's education programme, you can book one of our Lunch 'n Learn sessions. We'll teach you about designing systems that can protect you from cyber crime. We'll also educate your employees about best practices for using secure data, how to spot social engineering scams, how to safely use company devices outside the office, and much more.
Personally speak with one of our Directors to discuss your requirements
Complete this quick form and we will be in touch or contact us using: