Offering all sizes of businesses customisable and scalable network support solutions that suit their needs
Today's businesses can't run without a secure, well-functioning network. Lacking the proper infrastructure, services, and products will hamper your growth as a company. Amazing Support provide scalable, bespoke network support services to businesses of all sizes, as part of our managed IT services.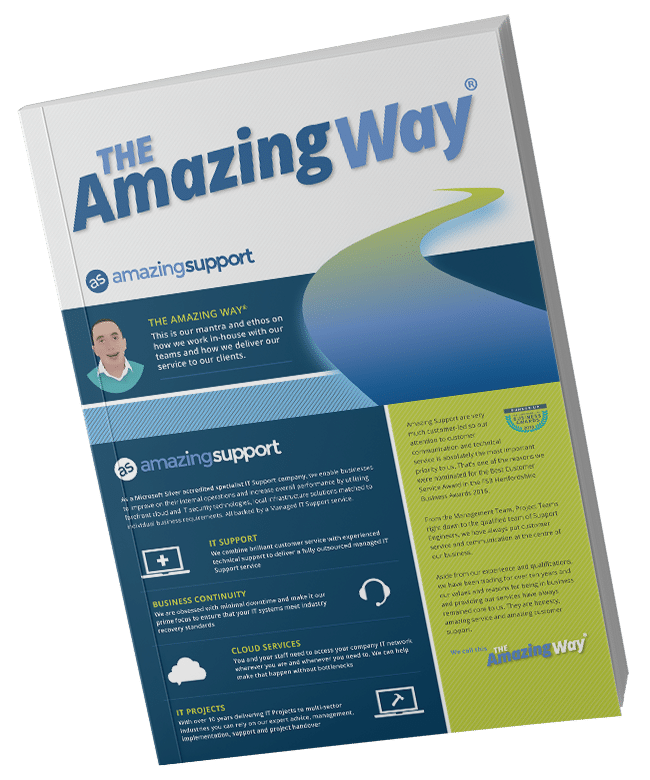 Find out how we deliver IT support the Amazing Way!
By downloading you agree to your data being passed to Amazing Support. For details on how we use it and keep it secure please see our Privacy Policy.
What's Included in Our Network Support Services?
Network Security – With a wide range of cyber threats existing today, security is vital to your organisation's functioning. We provide secure network support solutions, keeping cyber attacks at bay, and monitoring consistently to identify new threats.
Network Infrastructure – A network infrastructure designed specifically for your business, tailored to your products and your customer demands, are integral to your company's success. We will, therefore, work with you to build the perfect infrastructure for your needs.
24/7 Network Support – Our experts provide constant monitoring of your network and support right when it's needed.
Remote Monitoring and Management – As an outsourced managed IT service, our network support monitoring and management can be done off-site. We can identify and resolve problems without having to travel to your office.
The Benefits of Managed Network Support
Managing your network in-house can pose significant challenges. There are several benefits to counter these when you outsource your internal IT issues to professional services.
Cost-effective – By hiring professionals for only the network support services you need, rather than employing a full-time team, you'll save on expenses. You can devote your savings to other areas like hardware improvements.
Expert Services – Our dedicated network support managers will ensure your needs are met. Our bespoke support services allow you to tailor your plan for your business requirements, with certified professionals managing your network.
Reduced Risk – Several risks are reduced with managed network support. You risk less down-time, boosting productivity. You risk fewer breaches with a secure network. There's also less chance for loss of service to your business, as things are less likely to malfunction with our constant monitoring.
Availability – Our experts are available at any time to assist you. Depending on your situation, we can even dispatch one of our professionals to your site to address the problem in person. We pride ourselves on our quick response times.
Security and Peace-of-mind – With managed network support services, you can trust your network is secure and that we will keep it that way. With the confidence that your network won't be breached, you can focus on other aspects of running your businesses.
Amazing Support prides itself on amazing customer service. Part of this promise is delivering custom, scalable network support solutions to each client. Working with SME's and blue-chip organisations alike, we understand that there's no single model to fit every business. Your network support needs will depend on your business size, ambitions for growth, customer base, and industry. Our managed IT professionals will provide you with as little or as many services as you need. With our broad network support portfolio, you can choose what suits your business. You can select from network uptime service-level agreements (SLAs), remote diagnostics, network installation support, and other services on an ad-hoc or full-time basis.
Our flexible network support options are backed by our customer service driven ethos and official accreditations and certifications. We are a Microsoft Silver Partner and a certified Cyber Essentials IT Services Company by HM Government. When you partner with Amazing Support, you have all of our knowledge and experience at your disposal. You'll also have our commitment to designing your perfect network support solution.
For more information on our managed IT services, see our pages about IT Security and GDPR, Network Support Services and Switching IT Support Partners.
Personally speak with one of our Directors to discuss your requirements
Complete this quick form and we will be in touch or contact us using: