As a Microsoft Silver Partner, we can provide the best support for your 365 application
Microsoft Office 365 Business Application
As an accredited Microsoft Silver Partner, Amazing Support offer expert consultancy and advice on the Microsoft Office 365 business application. Switching to Office 365 can have significant benefits for your business, including greater flexibility and cost-savings.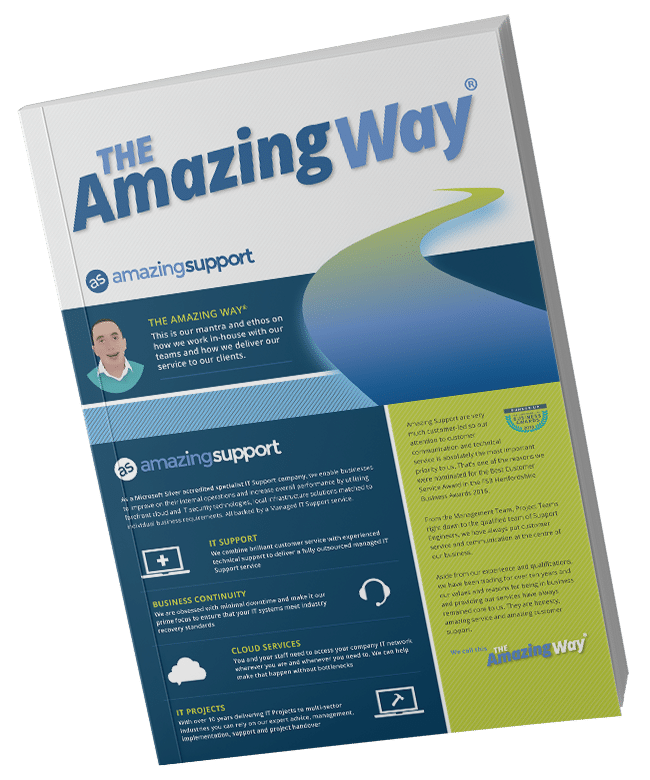 Find out how we deliver IT support the Amazing Way!
By downloading you agree to your data being passed to Amazing Support. For details on how we use it and keep it secure please see our Privacy Policy.
Why Migrate to Office 365?
If you're not already running Microsoft Office 365 applications for your business, now might be the time to switch. As one of the most widely-used business applications today, Office 365 has secure support and features that your staff is likely to be familiar with.
Accessible Anywhere – With Office 365, you're guaranteed 24/7 access across devices. Microsoft Office 365 has cloud-based capabilities that go beyond standard Microsoft Office packages, allowing you and your team to log on to your network at any time, from anywhere.
Familiar Tools – Most people have used at least a few Microsoft Office products before, so switching to Office 365 will reduce time spent on training. Office 365 products are cloud-based, but with your subscription, you still have access to standard Microsoft Office programmes which you can install on Mac or PC. As a result, your switch will be seamless.
Secure Applications – As with any cloud-based system, questions about security come up. Office 365 has ample security measures to keep your files, data, and network safe. You'll also have Office 365 updates as soon as they're available, ensuring any patches are covered before you become vulnerable.
Scalable Licenses – You don't have to commit to the full Office 365 package if your business doesn't require it. Licenses are flexible, so you can scale up your access to products when you need, or scale back to cut down on costs.
Cloud-Based Storage – By migrating your network and storage to the Cloud, you free up space on your on-site servers. You can devote this space to other important resources, or scale back your servers entirely.
Cost-Effective – With cloud-based business applications like Office 365, you pay a monthly subscription fee for the products and services you want. You don't have to pay upfront for licenses to the products, not knowing if you'll keep using them consistently in a few years.
Microsoft Office 365 Consultancy
Amazing Support is an accredited Microsoft Silver partner. We've helped countless businesses of all sizes across London install and manage Office 365. Our consultants are at your disposal for whatever services you require regarding Office 365. We can guide you through the migration to the business application, as well as oversee installation. We'll also help you deploy Office 365 and advise on how to manage its ongoing usage in your business.
At Amazing Support, we provide a suite of cloud-based IT services and consultancy. We are, therefore, very familiar with business applications that work with the cloud, like Office 365. If you're an existing client who's considering migrating to Office 365, we can develop a plan with you for the switch that reduces downtime and secures your data. If you aren't an existing client but would like professional IT expertise concerning Office 365, we can provide that as well. Our experts are at your disposal for any questions or projects related to Office 365.
Office 365 Business and Enterprise Plans
There are two levels of Microsoft Office 365 plans available for organisations. The first is Office 365 for Businesses, which hosts up to 300 users. This level has three tiers, Business Essentials, Business, and Business Premium. Each tier has different options available, so whichever you choose depends on the needs of your business.
If your organisation has more than 300 users, then you'll have to choose Office 365 for Enterprises. This level has four tiers, ProPlus, Enterprise E1, Enterprise E3, and Enterprise E5. Again, each tier has different products and online apps available, as well as different amounts of storage space. Our Office 365 experts can advise on which package will best suit your business needs.
For a business application that adapts to your changing requirements, consider Office 365. You can find more info on our website about other business applications we work with.
Personally speak with one of our Directors to discuss your requirements
Complete this quick form and we will be in touch or contact us using: