Experts In Remote Working Solutions
Get switched to a professional remote working solution within 72 hours – or let us help manage your remote working systems to keep your business up and running
Instant IT Support For Remote Working
For over two decades our team has been supporting, protecting and optimising the way hundreds of SMEs across London and Hertfordshire operate and perform with technology.
But with the recent Coronavirus outbreak, our focus has changed to helping businesses continue to function whilst their workforce are safe at home, thanks to integrated remote working solutions.
"Thanks Jamie to you and the team at Amazing Support for an IT setup that allows us to effortlessly WFH (work from home)"
Want to know how we can help your business Work Remotely?
Arrange a Call Back or call us now!
Providing Secure, Effective and Practical Home Working Systems
Moving your business operations over to remote working may sound like a scary task, but it's one that we have completed for over 500 clients throughout our years in business, with more and more switching to remote working every day now. Which is why we're perfectly set up to help you and your staff begin working from home with a complete service. Using our expertise we design, source, supply and setup complete remote working systems for your business. Whether you need a simple shared drive setup or require a complete remote working solution including laptops, communications and software setup. We can help.
Whether we set your systems up or if you had a previous remote working solution, our team can provide expert management and support to help your staff get the most out of their home working system whilst also troubleshooting any issues which arise. You need secure access to your company IT systems wherever you are and we can make that happen for your business with cloud services and cloud technology without any bottlenecks or security worries.
A critical factor for every business is cyber security, but this is even more critical while staff are working from home as home wifi networks represent a huge gap for cyber criminals. We stay ahead of the game when it comes to cyber threats with layers of cyber security filtering and cyber compliance to keep our clients protected from cyber-borne threats.
See what Stephanie Kleyman of Kleyman and Co. Solicitors thought of our remote working services
Paul Isaacs – Generator Group
Proud of my team Generator Group of Companies this week who rose to the challenge. We were ready thanks to Amazing Support for remote working with everything already being in the cloud and accessible to us all
Dawn Spear – Resolve Corporate
As a very new customer to you we are so pleased that we have chosen AS as our IT protection Company – cant wait to get the server up and running.
Andy Stern – Analytica Media
Despite increased demand our issue was dealt with swiftly and well.
Krishna Ruparelia
Thanks Jamie to you and the team at Amazing Support for an IT setup that allows us to effortlessly WFH (work from home)
Steven Jones – Spotlite Claims
Many thanks Aaron. You have been quite brilliant as ever throughout this process. Can't thank you enough!
See if we can help in our FAQ video below
Looking for a quick quote? Call Us Now
What happens when you partner with us?
First off we will get you and your team set up on our helpdesk system so that from the word 'Go' you have immediate access to our support team.
We don't just set you up and dissapear. Once you are on our system we will be in touch to arrange some account overview meetings and also any on-site work that was agrred at the beginning.
Then we'll complete all of the IT Support tasks that need to be done in order to give you the best service. Including risk management audits, asset storage audits and more procedures that will keep your business ticking over healthily.
With all of this in place, we still won't dissapear. Our team are constantly monitoring your systems, to identify any potential threats and solve any issues usually wbefore even you notice them; so that you can get back to doing what you do best, running your business.
Find out how we deliver IT support the Amazing Way!
By downloading you agree to your data being passed to Amazing Support. For details on how we use it and keep it secure please see our
Privacy Policy
.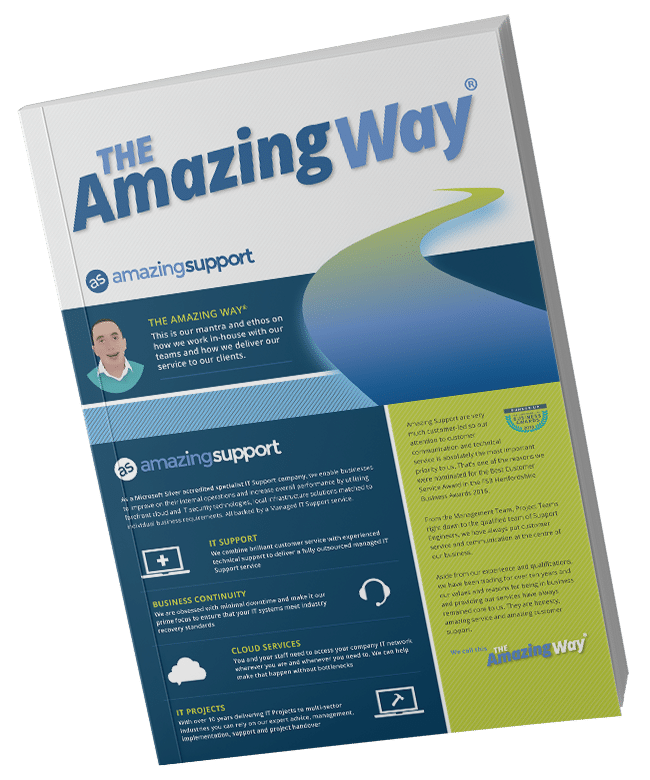 Why choose Amazing Support?
SUPPORT CALLS RESPONDED TO WITHIN 1 HOUR
CLIENTS GAVE US A 5/5 RATING
SUPPORT ISSUES RESOLVED WITHIN 24 HOURS
Get in touch and you'll see how much it would cost for us to support your business.
Your Local IT Support Company
We're currently based from our homes too!
Personally speak with one of our Directors to discuss your requirements
Complete this quick form and we will be in touch or contact us using: