Cloud Email Hosting Services
Cloud Email Hosting Services
More and more London businesses are choosing cloud computing solutions. The versatility and cost-effective nature of cloud email allow even small companies to pick the most fitting service for their needs.
As part of our general cloud computing services, Amazing Support offers managed cloud mail support. We will set up your hosted email entirely on a cloud-based platform, so you don't have to invest in internal servers. With Exchange Hosting, you and your staff no longer have to worry about being on-site to access email. Your contacts, calendars, tasks, and even your archives are safely hosted in the cloud, readily accessible from any mobile device.
With our cloud mail solutions, we'll select the best email hosting application for your business. We can provide the latest Microsoft Exchange as part of our hosting plan. With Microsoft Outlook and Microsoft Web Access, you and your team will have mobile access to one of the most widely-used, cloud-based email servers on the market. When your email hosting is set up, we'll continue to provide ongoing maintenance. We'll also coordinate backups and archiving options, including a disaster recovery mailbox should the worst happen.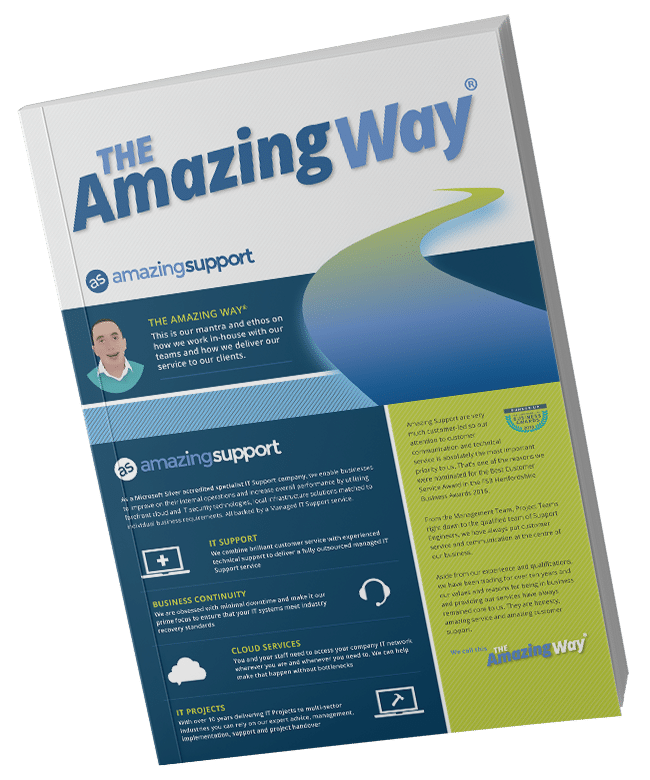 Find out how we deliver IT support the Amazing Way!
By downloading you agree to your data being passed to Amazing Support. For details on how we use it and keep it secure please see our Privacy Policy.
The Benefits of Cloud Email
Hosting your email on external servers grants your business more mobility. It allows your staff to stay connected and productive even if they're not all in the same, physical office space. With cloud hosting, a globally-distributed team becomes a real possibility. When companies operate with cloud computing solutions, the need for brick-and-mortar offices is eliminated, reducing your company's costs.
Indeed, email hosting is a cost-effective solution. Instead of paying a huge sum upfront for your company's internal email server, you can pay smaller, monthly instalments. You'll only pay for what you need, and you can scale your access up or down as your company grows and evolves. With greater accessibility and lower costs, your productivity will soar.
How Can You Keep Cloud Email Secure?
A frequent concern with cloud mail is security. Email is the top cyber security threat vector today, since users can be easily fooled by the increasingly sophisticated attacks cyber criminals use. Spear phishing, ransomware, and business email compromise are just a few of the worrisome attacks being carried out. As businesses migrate their data to the cloud, these threats can increase.
With cyber security tools tailored for cloud email hosting, you can keep these attacks at bay. With our cloud email and overall cloud computing solutions, Amazing Support covers your network with layers of authentication, filtering with advanced threat protection and recovery features. As cyber security experts, we know how to stop viruses, malware, phishing, and ransomware in their tracks. We also do regular backups of your data should your business come under a cyber attack. Our Cyber Security solutions – cloud-based and otherwise – are always in line with the GDPR and HM Government Cyber Essentials Scheme.
At Amazing Support, we believe you shouldn't have to sacrifice mobility and productivity for the sake of security. We can help your business be productive while keeping it secure.
Popular Hosted Email Providers
Four of the biggest cloud mail providers are Microsoft Office 365, Intermedia Exchange Email, G Suite, and Rackspace. With our cloud computing services for London businesses, Amazing Support has worked with these four as well as other cloud email hosting providers. Different hosting services boast different features, so each one may not be fully compatible with every business.
When you rely on Amazing Support for your cloud email solutions, though, we can set up and manage the best, cloud-based email server for your company. We'll work with you to determine your needs and find a suitable solution. To learn more about our general cloud computing services or our role as your cloud manager, see our other pages on cloud services.
Personally speak with one of our Directors to discuss your requirements
Complete this quick form and we will be in touch or contact us using: