Today's businesses need to deliver speed, performance, and reliability to be successful. Amazing Support offers broadband monitoring and service to keep your business from falling behind.
Why does your broadband Internet need to be business-grade? Your productivity soars, as you can field customer requests even at the busiest times of the day. Faster broadband takes online file sharing to a new level, letting you store your data online and access it quickly from the Cloud. Increase your capacity and server storage, and save on costs.
Business broadband is also more reliable than standard Internet, so your teams perform at top-level consistently. Boost your internal and external communication strategies with HD video conferencing, and build solid relationships with your customers and clients. Business-grade broadband also gives you the capacity to expand your business, tapping international markets. Amazing Support's business broadband services can be combined with our VoIP and WiFi services for a full connectivity package.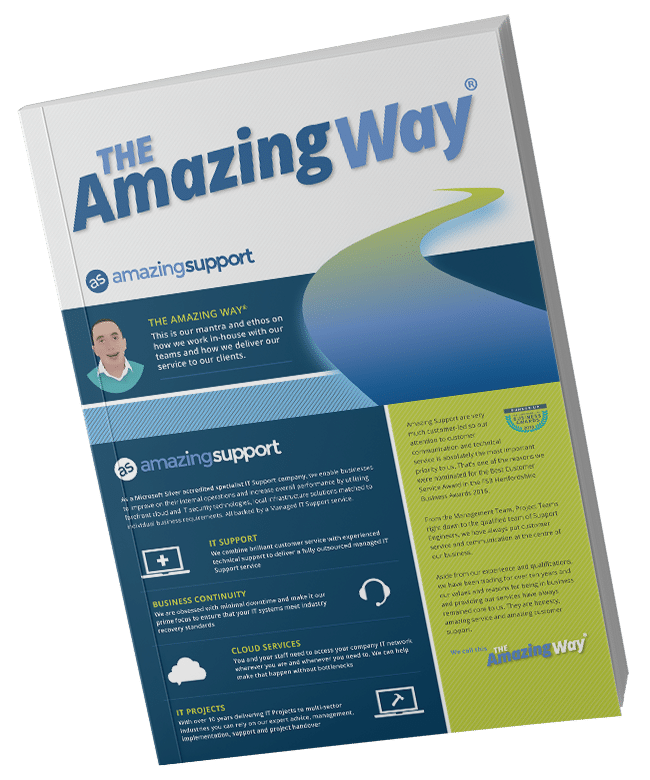 Find out how we deliver IT support the Amazing Way!
By downloading you agree to your data being passed to Amazing Support. For details on how we use it and keep it secure please see our Privacy Policy.
Our Business Broadband Solutions
Amazing Support offers business broadband solutions in London in Hertfordshire, for businesses of all sizes. If you're a one-person operation or a large, multinational corporation, we have a broadband service plan for you. Our expert engineers will do a preliminary survey of your business to determine which broadband service will best suit your needs. Our solutions include a variety of Internet speeds and data options so there's a package that will fit you. If there's not, we'll create a bespoke broadband solution for you!
In addition to our engineers, you also get access to our Helpdesk, where we provide proactive monitoring and reactive customer service ticketing. Amazing Support doesn't set up your business broadband connection and leave the rest to you. We maintain a level of support and service that will prevent issues and mitigate problems quickly. With us, you get more than business broadband Internet. You receive a comprehensive broadband monitoring and IT support package.
The Benefits Of Broadband Migration
Already have a broadband provider and afraid switching will disrupt your business? Not to fear – migrating between broadband service providers and products is a breeze. Most transitions happen seamlessly and with little effort on your part. When you decide it's time to switch, Amazing Support can handle all the details so you don't have to.
After you migrate to your new business-grade broadband service, we'll continue to monitor performance and make adjustments to ensure your broadband meets our agreed service level. We also offer different levels of support, so you can scale up or down as your business grows and changes. Amazing Support is committed to quality and superior customer support – we'll help you keep your business running.
Ready to upgrade your company to business broadband? We'll help you bring your business forward. Contact us today to get started.
Personally speak with one of our Directors to discuss your requirements
Complete this quick form and we will be in touch or contact us using: