Backup and Disaster Recovery
Guiding you through the creation of a disaster recovery plan, and implementing all phases to provide you with a robust backup and recovery system
Backup and Disaster Recovery
No business should be without a disaster recovery plan. In today's digital world, cyber threats are prevalent and data breaches are common. With the right protection and regular monitoring, though, you can keep your company safe. Amazing Support offers outsourced backup and disaster recovery services to businesses of all sizes.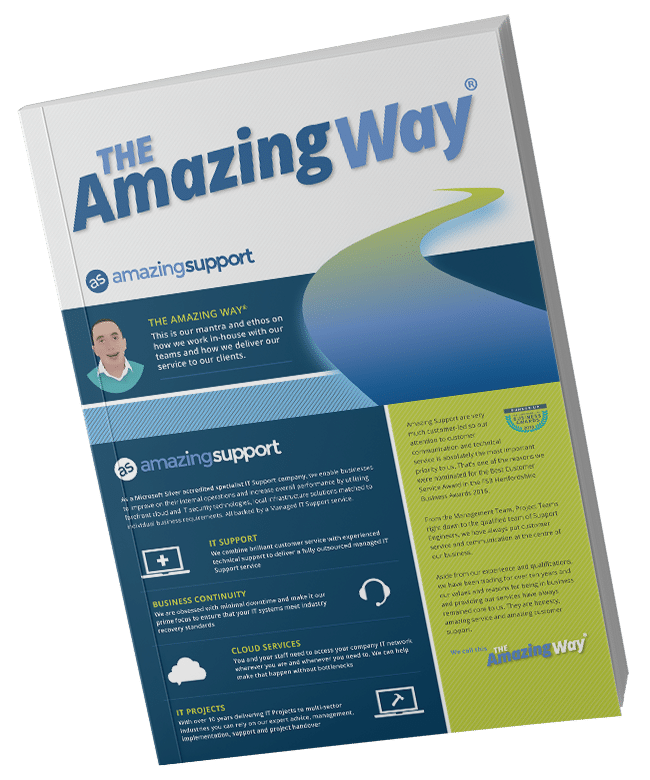 Find out how we deliver IT support the Amazing Way!
By downloading you agree to your data being passed to Amazing Support. For details on how we use it and keep it secure please see our Privacy Policy.
Our Backup Recovery and Disaster Solutions
As part of our range of managed IT services, we offer regular data backup, storage, and reporting. We're thorough in our backup processes so that your business is prepared in the event of a disaster. We offer full backup solutions, a comprehensive disaster recovery plan, and cloud backups as part of our services.
Backup Solutions – With our data backup solutions, we provide data archiving and secure data storage. We work with products that use certified data centres and have options for encryption, should you prefer an extra layer of security.
Disaster Recovery Plan – Our recovery plans are designed to restore your access to your data quickly and easily. With either bare metal disaster recovery on a bootable USB drive, virtual disaster recovery with a virtual machine, or another of our recovery options, your business will be back up and running in no time.
Cloud Backups – We provide cloud, hybrid, and onsite backups. Cloud backups are usually more secure, due to multiple authentication layers. Whichever you choose is fully managed by our IT professionals, and designed to protect your company's data in a secure environment.
Devising Your Disaster Recovery Plan
As part of a larger business continuity plan, disaster recovery plans are essential. A disaster recovery plan outlines a process or set of procedures to follow in the event something should happen that threatens the security of your data. Regular data backups are part of this plan, which touches all parts of your IT system. The recovery plan should include contingencies for your applications, servers, and data storage, as well as your desktops, laptops, hardware, telephony, and remote working capabilities.
Why Invest in Backup and Disaster Recovery?
It's impossible to function in today's digital world without secure data. Protecting your company's and your customers' data should be a top priority if you ever intend to grow. One small vulnerability can result in a cyber attack, bringing your system down. If you don't have everything backed up, your business likely cannot continue. Additionally, if you don't have a recovery plan in place, your downtime will result in significant losses.
Every Business Needs a Data Recovery Plan
It's naïve to think your business will be immune from cyber threats or data breaches. Even SME's and entrepreneurs are at risk for cyber attacks. Any enterprise entity should implement secure data backup and devise a disaster recovery plan. Amazing Support has experience providing backup and recovery services to businesses of all sizes, including non-UK organisations wishing to do business in Britain. We have the knowledge and the experience to tailor your data recovery plan to your specific needs.
Amazing Support's certified professionals will guide you through the creation of a disaster recovery plan, including data backup options. Your plan will fit your business, covering all the important aspects of your IT system. Data backup and disaster recovery are critical to your organisation. Trust the experts at Amazing Support to set up your recovery system.
You can also complete a Free Business Continuity Review here and we will be in touch afterwards to go through your recovery objectives.
For more information on our managed IT services, see our pages about IT Security and GDPR, Network Support Services, and Switching IT Support Partners.
Personally speak with one of our Directors to discuss your requirements
Complete this quick form and we will be in touch or contact us using: