Dropbox business is a popular choice for organisations who want scalable file storage and management systems
Dropbox Business is a popular choice for organisations that want scalable file storage and management systems. The cloud-based application has several benefits for small and big businesses. Dropbox Business is also one of the primary business applications we work with at Amazing Support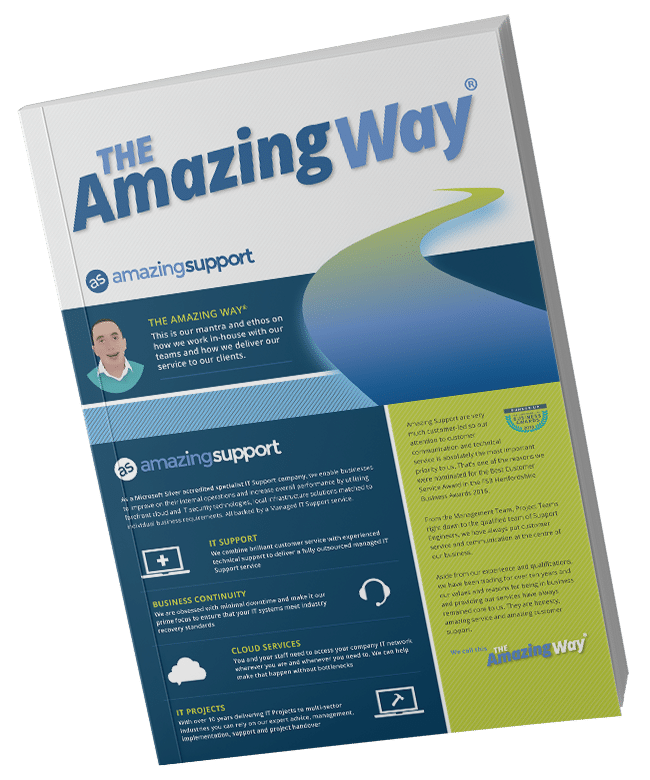 Find out how we deliver IT support the Amazing Way!
By downloading you agree to your data being passed to Amazing Support. For details on how we use it and keep it secure please see our Privacy Policy.
Why Use Dropbox Business?
Switching to Dropbox Business for your file storage and management has numerous benefits, from better ROI to greater agility in business operations.
Increased ROI – Investing in cloud-based file storage solutions can bring in big returns. In a study conducted with IDC, Dropbox Business found that their customers saw an 802% ROI. This is due to the related cost-saving benefits using Dropbox has, like better productivity and more agility.
Better Productivity – With Dropbox Business, teams have quicker, more ready access to the files they need, from anywhere. This kind of access cuts down on waiting time to receive files and boosts efficiency.
Greater Employee Collaboration – File sharing also fosters more engagement and collaboration. Documents can be shared with and edited by anyone on the team, so people can leave task reminders and track updates on group projects.
Cost Reduction – Dropbox Business has flexible storage options, designed to suit your business needs. You can choose a storage plan at a price point that fits you. Additionally, you save on IT infrastructure and management costs, as well as reduce your bandwidth consumption.
Lower Training Threshold – Dropbox Business is incredibly user-friendly. The intuitive interface is easy to learn, so you won't waste time training your staff on new software when switching to Dropbox Business. Not only do you spend less time and money on training, but your IT capacity for supporting collaboration won't be stretched as thin either.
Agility – With automatic syncing, the latest versions of your documents are saved and backed up. Plus you can still retrieve previous versions of a file should you need it. This remote access allows your business to react quickly. Faster access to your files for customer requests makes your business more responsive.
Security – Dropbox Business files are stored and accessed securely. With 256-bit AES encryption for storage and an SSL/TLS tunnel to deliver your files to you, you can trust that your data stays safe when using Dropbox Business.
Our Dropbox Business Consultancy
Dropbox Business is a great cloud storage solution for SMEs that want to reduce costs and increase flexibility. We've helped many businesses across London migrate to Dropbox Business, advising on how best to use the application for specific needs. While Dropbox Business is user-friendly, switching to a new data storage system for your entire business could present challenges. You must ensure your files are transferred correctly and securely, and that the data on the old system is destroyed properly.
Our consultants are experts in cloud-based IT support. We're highly knowledgeable in business applications like Dropbox Business, having consulted with many businesses on data migration and storage previously. If you think Dropbox Business could suit your organisation's needs, you can consult with us on your best options.
Dropbox Business Features
File Backup – With file and version recovery, as well as remote wipe, your files are accessible and secure
Team Collaboration – Features like third-party app integrations, team folder manager, link permissions, and smart sync, your team can stay up-to-date on every file and every task.
Administrative Tools – Dropbox Business has admin tools like the dashboard, account transfer tool, and Dropbox Paper to help you run your team efficiently.
Security – Link permissions allow you to password-protect links and files, as well as disable downloads. Remote wipe lets you clear files from lost or stolen devices as well.
If you're considering a switch to Dropbox Business, Amazing Support can guide you through the process and suggest the best plan for your business needs. You can find info about our other business applications on our website.
Personally speak with one of our Directors to discuss your requirements
Complete this quick form and we will be in touch or contact us using: