Modern businesses need Internet with speed, performance, and excellent monitoring service. Amazing Support's business-grade Wi-Fi service keeps your business moving.
Our Business Wi-Fi Solutions
Amazing Support offers WiFi solutions to businesses of all sizes in London and Hertfordshire. Our clients range from small teams to blue-chip organisations. We provide a fully managed solution that keeps everyone in your company connected, whether it's wireless Internet for your tablets and laptops or courtesy WiFi for staff and guests. Our engineers can design and install a business WiFi network that covers all devices and provides a fast and stable connection.
Our WiFi business solutions take your company's needs into account. We consider the premises size, building construction, type of devices, application bandwidth requirements, and security preferences. If your business uses VoIP or video applications, you'll want to give bandwidth priority to those apps to ensure clarity and optimised performance. Our wireless networks can be modified to prioritise any app your company uses. With our Managed IT Services, we can also monitor the performance of your network and make changes instantly.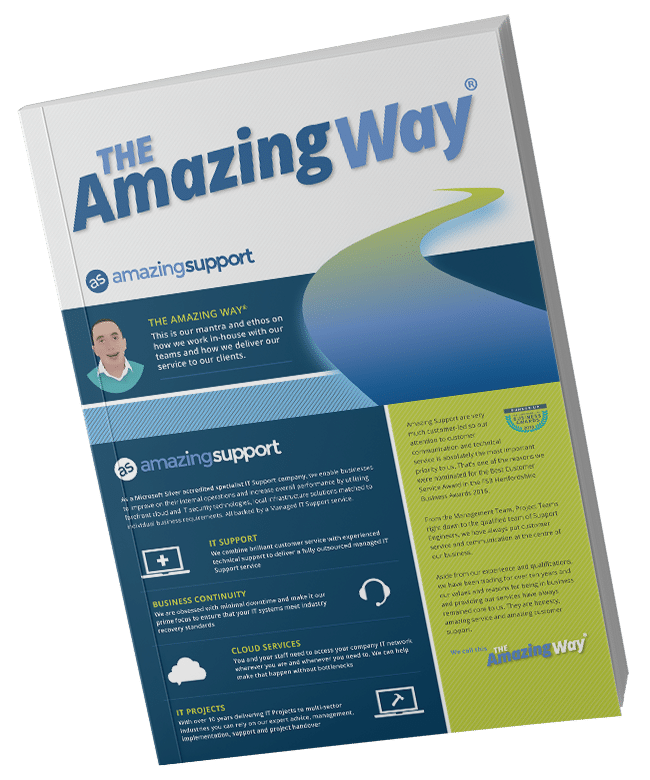 Find out how we deliver IT support the Amazing Way!
By downloading you agree to your data being passed to Amazing Support. For details on how we use it and keep it secure please see our Privacy Policy.
Wi-Fi Solutions For Home offices
With remote working becoming more common, businesses need WiFi solutions for their employees' home offices as well. Standard WiFi packages for home use aren't suitable for business purposes. You need a wireless connection that won't drop video conferencing calls and can handle large file transfers while remaining secure. Amazing Support provide business-grade Internet for teleworkers, so you can maintain your productivity level with a work-from-home business model.
Our high-speed Internet solutions for home offices include secure and reliable networks with on-site installation and dynamic or static IP addressing options. We can also provide security and usability features, such as protecting against viruses and ransomware or enforcing acceptable use policies. With our WiFi services for home workers, you can also limit access to certain business applications by role or user.
The Benefits of Business Grade Wi-Fi
To keep your business running, you need business-grade WiFi. Business WiFi packages come with better speed and increased connectivity, ensuring consistent performance of all online activity. Better WiFi performance means improved business communications between your teams, which promotes efficiency. Business WiFi also improves external processes, increasing customer satisfaction and leading to more sales or more clients.
Business WiFi networks are also more secure than standard ones. Any company, big or small, can be the target of cybercriminals so you'll need enhanced security features for going online. With business WiFi, you also have less infrastructure to worry about and better mobility throughout your office. Our managed business WiFi solutions can be combined with our VoIP service for a full connectivity package.
Ensure your company's efficiency with business-grade WiFi from Amazing Support. Contact us today to get started.
Personally speak with one of our Directors to discuss your requirements
Complete this quick form and we will be in touch or contact us using: