VoIP stands for Voice over Internet Protocol and it refers to Internet-based phone service. Some common examples of VoIP for personal use are Skype and WhatsApp.
For the modern business, VoIP is a better solution than a traditional landline. VoIP uses your Internet connection to place and receive calls, so there's no need to install a phone line in your office. You can conduct business with anyone in the world with VoIP because there are no extra fees for placing international calls. As long as the person on the other end has an Internet connection, you can call them.
Most VoIP services also have better signal clarity than traditional phone lines and cost less to use. VoIP phones are portable, so you're not tethered to the office if you want to make a business call. To get the most out of your VoIP service, you should also sign up for a high-speed, business-grade WiFi package.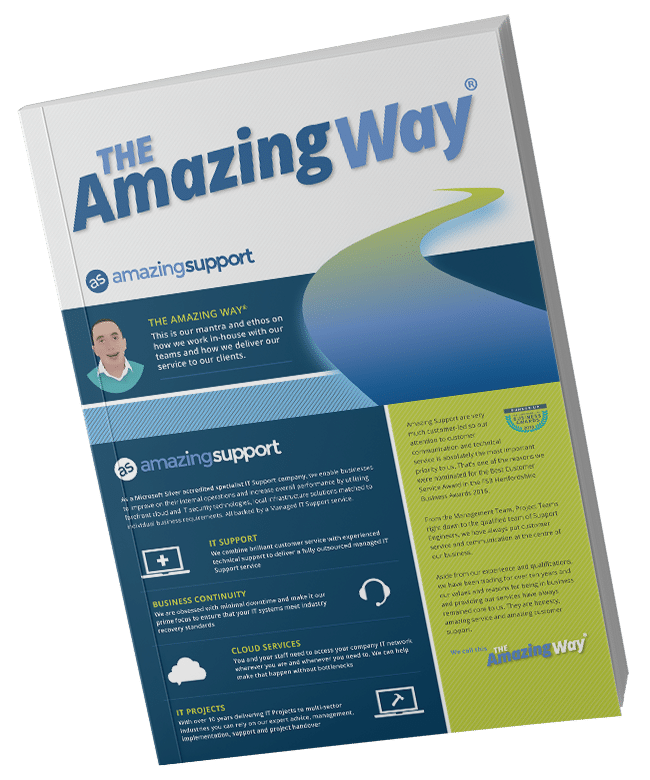 Find out how we deliver IT support the Amazing Way!
By downloading you agree to your data being passed to Amazing Support. For details on how we use it and keep it secure please see our Privacy Policy.
Our VoIP Technology Solutions
Amazing Support provides VoIP telephony connection and monitoring services to businesses throughout London and Hertfordshire. As part of our Managed IT solutions, we'll help you migrate to a VoIP service and set up your new system. Our reliable VoIP service won't drop calls and has a transparent pricing structure. After we install your new VoIP service, we'll continue to monitor for any problems or hiccups.
When you choose Amazing Support for your VoIP telephony service, you have full access to our support tools. Our expert engineers are standing by to answer your questions and solve your problems. We also provide a Helpdesk, where you can solve problems, ask a question, or submit a ticket. We pride ourselves on our proactive monitoring tools, which allow us to check the health of your VoIP system and prevent foreseeable problems.
The Benefits of VoIP Migration
By switching to VoIP, your business can cut down on communications maintenance costs. Since VoIP phones are portable, there's no need for both office phones and cell phones for your employees. Your network expenses will also go down, as you don't need separate networks for data and phones. You can deliver your services more quickly without needing large capital. You can also offer our VoIP services to your customers, increasing revenue and strengthening relationships.
A VoIP service is also more reliable, with better performance than traditional phone service. VoIP is also more secure, with standardized encryption protocols. VoIP has multifunctionality that traditional phones don't. Video conferencing, forwarding voicemail to your email, and receiving faxes can all be done with VoIP telephony.
Migrate to a VoIP system with Amazing Support and move your business forward. Contact us today to get started.
Personally speak with one of our Directors to discuss your requirements
Complete this quick form and we will be in touch or contact us using: