London IT Support & Cyber Security
EXPERT IT SUPPORT IN LONDON
From both our central London IT Support and Hertfordshire offices, we provide unrivalled IT Support services to businesses large and small who are looking for an IT partner that can provide complete, cyber secure and managed IT solutions. Our comprehensive service list spans across all areas of business IT including: Managed IT Services, Cloud Computing, IT Consultancy and Cyber Security. With over 20 years of experience in IT Support.
For over two decades our team has been supporting, protecting and optimising the way 100s of SME companies across London operate and perform with technology.
From financial powerhouses in Mayfair to small businesses in St Albans, we pride ourselves on delivering a consistent, trustworthy and Amazing IT Support service to all of our clients. Amazing Support, your chosen Managed IT Support company.
When Amazing Support was founded, the owners had both already been in the IT business for over 10 years. They'd seen how businesses got pushed back and forth among their IT suppliers who refused to take responsibility for problems.
That's why we pride ourselves on the collective qualities and experience in the company by taking full ownership of issues that arise. And we go a step beyond that: we catch potential pitfalls before they bring your business to a grinding halt with proactive IT Support in London.
Our Award Winning IT Services
Have a look at how we combine brilliant customer service with cyber platforms & experienced proactive technical support for your desktops, servers, networks & cloud.
The Amazing Way is our mantra and ethos – it's how we consistently deliver the high-quality IT support our clients have come to expect.
It means that you can rely on our can-do attitude – that you won't be on hold with your suppliers for hours when things don't go as planned.
It's how you know that we'll take ownership of support problems and pre-empt issues before they happen… That we'll always keep you informed so you can make the best decisions for your business.
With The Amazing Way, you'll always have industry leaders to turn to for expert, honest advice.
Find out how we deliver IT support the Amazing Way!
By downloading you agree to your data being passed to Amazing Support. For details on how we use it and keep it secure please see our
Privacy Policy
.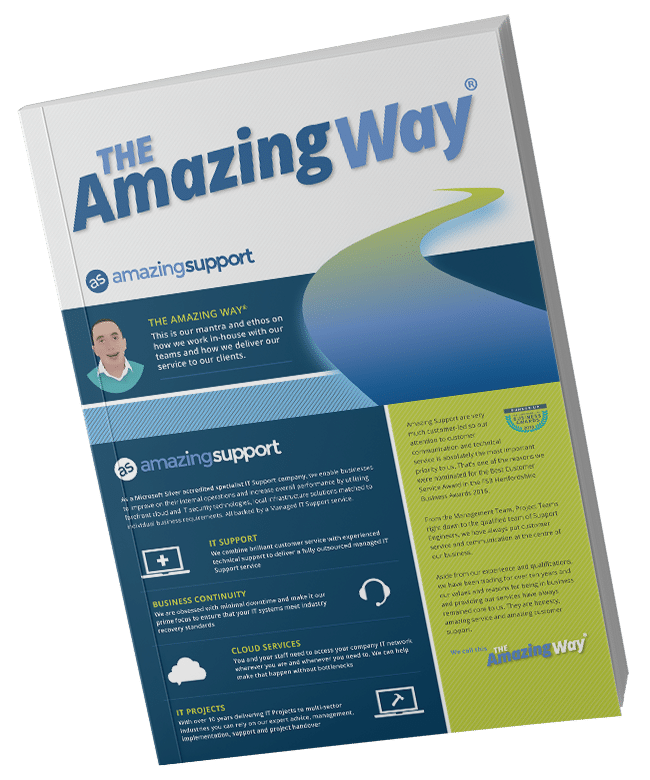 BENEFITS OF OUR IT SUPPORT SERVICES
Free Added Advice and Training
Expertise
Speed & Responsiveness
24 Hour System Monitoring
Microsoft Silver Accredited
Reliable, Local IT Support in London
Want to know more about how better integrated IT could benefit your business? Perhaps you've forgotten how to perform a task in Microsoft Office…Or maybe how to design systems that protect you from Cyber Crime? Book a free Lunch 'n' Learn, and we'll visit your offices at a convenient time to explain more about our business IT services.
With over 20 years in the IT support business there isn't much we haven't encountered before. Our experience helping businesses with their IT issues throughout the years has allowed us to streamline our support processes and deliver a higher-quality IT service.
Our IT Support and Cyber Security teams are on hand whenever you need them and are prepared to deal with any emergency that may arise. From viruses, phishing and ransomware, to even deeper cyber security issues, our experts are there to help.
We keep a close eye on all our client computer systems and networks, even whilst they sleep. Our monitoring system gives us the upper hand on IT system glitches so that we can fix them fast, sometimes before you've even noticed.
A rare breed, Amazing Support is an accredited Microsoft Silver Partner, giving us access to up-to-date market news, improvements and system information that means all of our clients benefit from the best support and management for their Microsoft systems.
Our staff really do exist. From our integrated offices we provide support, consultancy and advice, while offering a local business friendly service for clients who want to meet the team behind their IT support.
When complete Managed IT Support is more than required for your business we provide expert IT Consultancy in London. Advising and implementing IT infrastructure whilst being the go-to consultants for in-house IT Support teams, as well as acting as Virtual IT Director (vCIO) a strategic IT adviser for your board.
Free Business Continuity Review
What is a business continuity review?
Business continuity involves more than just data backup, it includes disaster recovery too. Our business continuity review will analyze the risk to your business resulting from any type of potential disaster (including Covid-19), assess your current recovery strategy, and recommend changes to your IT infrastructure and cyber security processes.
Why you need to review your continuity plans
Disaster comes in many forms – cyber attack, theft, accidental damage, power loss, network failure, fire, flooding, or more. When disaster strikes your business, you need to be prepared. A business continuity review will streamline the recovery process, getting you back up and running sooner. We'll review your input and suggest solutions to ensure your business is safeguarded against any potential threat.
Our business continuity review is free of charge and only takes 15 minutes to complete. Once you're done, we'll be in touch with our analysis and recommendations, tailored to your business. Start your free review by clicking below!
The Power of an In-House Support Team at your fingertips!
Maybe you've outgrown your one-man IT "team" or maybe you're looking to upgrade your systems to something faster and more up-to-date.
Whatever the reason, with Amazing Support you get the expertise, strength and security of an entire IT department at a fraction of the cost and headache.
And of course, with access to our entire business IT support team support team, you can expect exceptional customer service every single day. Take a look at our service scores to see how well we support our business IT clients.
SUPPORT CALLS RESPONDED TO WITHIN 1 HOUR
CLIENTS GAVE US A 5/5 RATING
SUPPORT ISSUES RESOLVED WITHIN 24 HOURS
Get a Quick IT Support Quote and you'll see how much it would cost for us to support your business.
Your Local IT Support Company
Based 5 minutes from Mayfair, our London IT Support team provide the city's businesses with the help they need to stay connected.
Frequently Asked Questions
We've compiled a series of FAQs but if you can't find the answer here please contact us to find out more.