We provide bespoke IT support solutions for education providers by understanding your requirements and meeting your specific needs.
IT Support for Education Services in London
Amazing support creates solutions for education services across London and the home counties. Your business needs more than routine IT system maintenance. We boost your productivity and create cost efficiency by devising IT solutions that align with your goals. If you want to grow, we can help you get there.
The education market in London is competitive, but our support services will help put you ahead of your competition. We'll design an IT infrastructure and support solutions in tandem with your goals, helping you achieve the results you're after.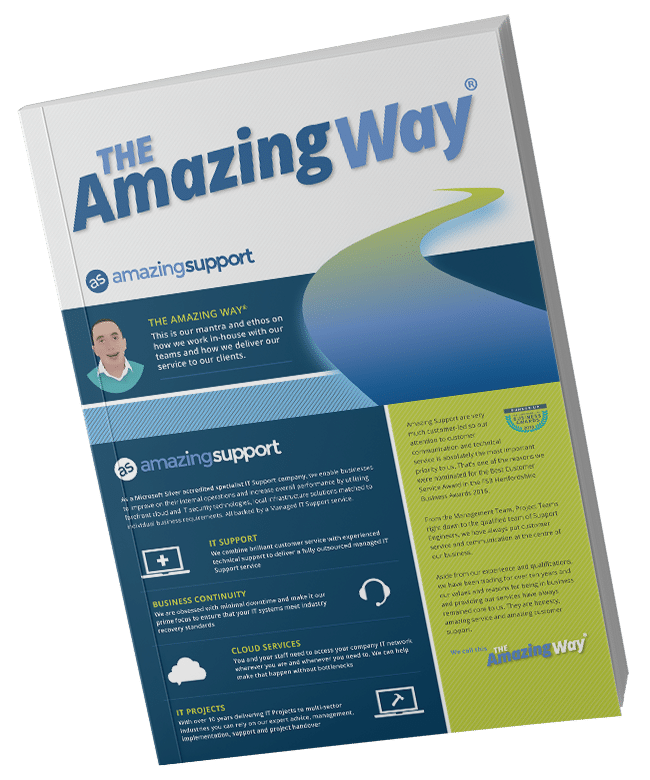 Find out how we deliver IT support the Amazing Way!
By downloading you agree to your data being passed to Amazing Support. For details on how we use it and keep it secure please see our Privacy Policy.
IT Support for Schools, Colleges and Universities
We understand the unique IT challenges of schools, colleges, and universities. Many educational institutions need an online system for student identification, course work, or even online learning. We'll help you facilitate this infrastructure so all students, faculty, and staff have the resources they need when they need it.
No two schools are alike, so your IT solution won't resemble that of other educational institutions. You have unique needs and we'll meet them.
Our Education IT Solutions
What typical IT services do educational institutions require? Although no two institutions are the same, some common solutions include backup and disaster recovery, VoIP and telephony, cyber security, and cloud solutions.
Backup and Disaster Recovery
When a disaster happens and your system goes down, your institution comes to a grinding halt. You can't afford down time, so you'll create innovative backup solutions and a disaster recovery plan.
VoIP and Telephony
VoIP is more cost-effective, user-friendly, and agile than traditional telephony. You can take a VoIP phone with you wherever you go as long as you have Internet access. We'll create a bespoke VoIP telephony network for your institution so you can stay connected.
Cyber Security & GDPR
Privacy and data security are of the utmost importance for schools, colleges, and universities. To help protect your and your students' data from breaches and attacks, we'll implement cutting-edge cyber security solutions and keep you GDPR compliant.
Cloud Solutions
Can education services benefit from cloud solutions? Of course! Cloud services let you work from anywhere, or extend your education services to students from anywhere. We'll devise a cloud solution that works for your institution.
Which IT Solution is Best for your Education Services?
Education services vary a great deal, and not every IT solution is fit for every institution. With our experience in this sector, we'll lend you our unique insights and advice when it comes to your IT system. If you have large databases of student information, you'll need industry-leading cyber security solutions. If your IT system is heavily user-focussed, a backup and disaster recovery plan is a necessity. We'll customise and optimise your IT infrastructure.
The best IT solution for your education services institution runs in the background. Your IT system and infrastructure should be seamless, fitting your needs perfectly and functioning at high capacity. Your ideal IT solution helps your students, employees, and faculty reach their full potential.
The Benefits of Working with Amazing Support
Why work with Amazing Support? We're an award-winning IT services provider, passionate about creating custom solutions for our clients. With our years of experience in the London educational sector, we can provide the services you need to grow.
Personally speak with one of our Directors to discuss your requirements
Complete this quick form and we will be in touch or contact us using: