Law firms have specific IT needs that our experts can cater to with our range of services.
IT Support for Law Firms in London
Having worked with law firms throughout London and the home counties, we know what specific needs the legal profession has when it comes to technology solutions. Not only do you need productive systems that help you process your work quickly, you also need secure processes that protect confidential client information.
Amazing Support does more than maintain your IT systems. We're a bespoke IT solution provider that can help you grow your business. If you're looking to add more personnel to your London law firm, you need technology that grows with you.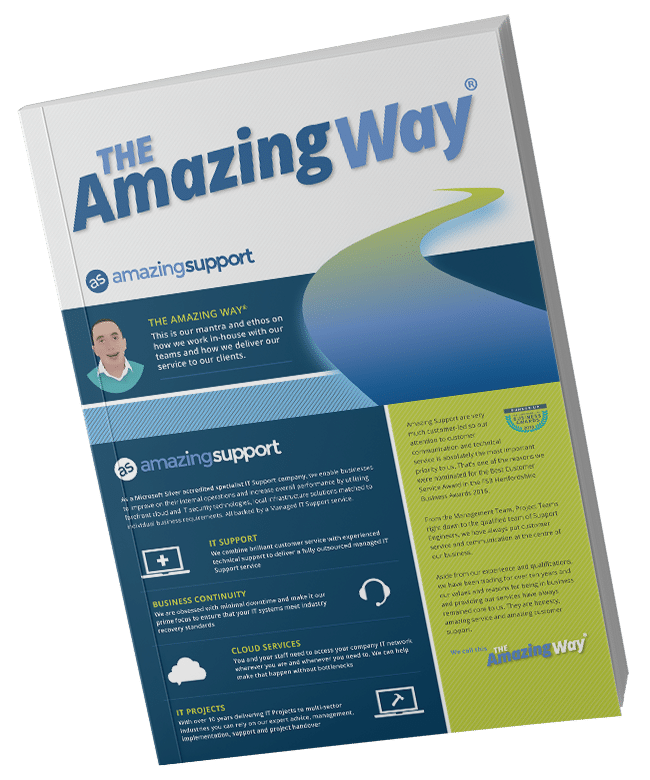 Find out how we deliver IT support the Amazing Way!
By downloading you agree to your data being passed to Amazing Support. For details on how we use it and keep it secure please see our Privacy Policy.
IT Support for Solicitors and Lawyers
Law firms have unique IT requirements and we help small and medium firms achieve robust and secure IT systems that make their work easier. We understand the common challenges solicitors face on a regular basis, including legal representation issues surrounding divorce, probate, and injury to property.
You want to deliver the best legal services to your clients, so we want to deliver the best IT support to you.
Although every firm is different, we typically offer backup and disaster recovery, VoIP and telephony, cyber security and GDPR, and cloud solutions to lawyers and solicitors. Our services are always unique to your firm's requirements for divorce, probate, injury, property, or legal representation departments.
Backup and Disaster Recovery
What happens to all your data when there's an accident and your system goes down? We consider this question and provide a robust answer so you never have to worry about getting your firm back up and running after a disaster.
VoIP and Telephony
Your legal firm needs to stay connected – to clients, other firms, and a number of other personnel or officials. The modern telephony solution that provides clearer quality and mobility is VoIP. We'll help you install and maintain your Internet telephony system.
Cyber Security & GDPR
Securing data and privacy are big concerns for law firms. With our bespoke solutions, we'll keep you secure and GDPR compliant.
Cloud Solutions
As a lawyer or solicitor, your work often takes you away from the office but you still need access to your email, documents, and other resources. Cloud solutions from Amazing Support makes that possible.
Which IT Solution is Best for your Law Firm?
Not every law firm is the same, each one has bespoke needs. Client-facing solicitors need good VoIP telephony. Firms need industry-leading cyber security for data handling and GDPR compliance. And every law firm should have a backup plan in case they need disaster recovery for an unexpected incident.
Our services will meet the needs of your various departments, ensuring your entire firm is covered with unique IT solutions.
The Benefits of Working with Amazing Support
By working with an IT support agency that understands the unique technology needs of a law firm in London, your business can excel and grow. We'll support a wide range of firms with various specialties, always taking your unique business needs into account.
Personally speak with one of our Directors to discuss your requirements
Complete this quick form and we will be in touch or contact us using: