Providing you with complete piece of mind 24/7 that your data is safe and secure, away from criminals
Secure data has become a must for any business operating today. Whether it's to protect your company's data or that of your users, cyber security and GDPR compliance are fundamental pieces to keeping your data safe. Amazing Support offers comprehensive cyber security and GDPR compliance as part of our managed IT services. We'll help your company's data stay safe.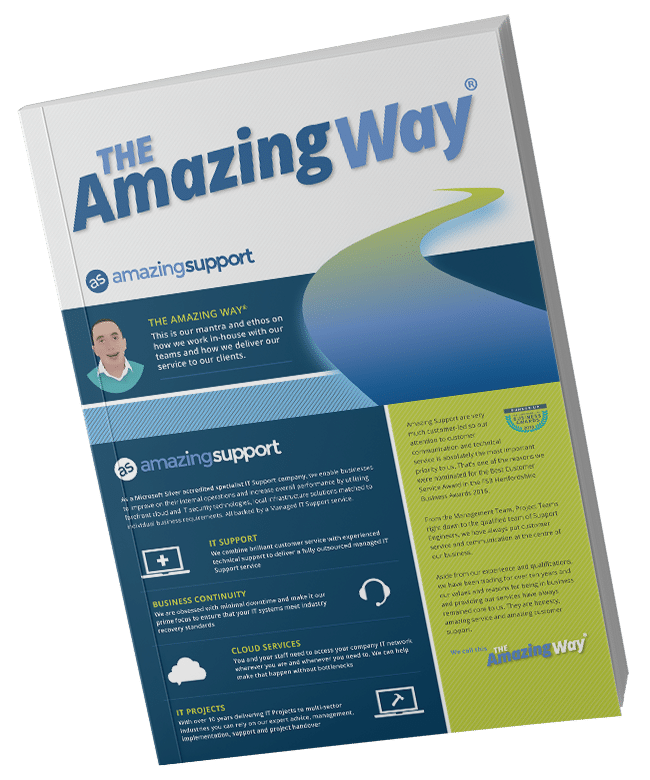 Find out how we deliver IT support the Amazing Way!
By downloading you agree to your data being passed to Amazing Support. For details on how we use it and keep it secure please see our Privacy Policy.
Our Included Cyber Security Services
When you partner with Amazing Support for your organisation's IT Security, you have our full range of services at your disposal. This includes but is not limited to:
Email Protection – Utilising Microsoft Office 365 and email security filtering with advanced threat protection, we can ensure your business email flow is uninterrupted by spam, viruses, phishing, whaling and cryptolocker threats.
Malware Protection – We have a wide range of services that can protect your system from malware and ransomware attacks.
Firewall Protection – We install and maintain your firewalls, constantly looking for vulnerabilities. We also send you regular reports detailing the health of your IT system's security.
Threat Management – We provide comprehensive IT system monitoring to quickly identify threats and vulnerabilities. We're able to dispel these threats before they wreak havoc.
Cyber Security Employee Education – Our employee IT education course includes basic training in IT systems and cyber security best practices. Your staff will learn how to secure their data, spot scams, understand email phishing, safely use company devices outside the office, and much more.
Cyber Security Consultancy – Our certified experts can help you tackle any cyber security issue, as well as help you set up and maintain a secure IT system.
Backup and Disaster Recovery – We consistently do backups of your data and provide you with corresponding reports. With our backup tools in place 24/7, your critical data can be recovered should a disaster strike, as well as emergency email mailboxes available to keep your business communicating.
The GDPR has been in effect since May 2018, yet many businesses remain non-compliant. The EU regulation is meant to protect user data, which businesses should aspire to do anyway. Penalties for non-compliance are stringent, with a maximum penalty totalling 20 million euros or 4 percent of global turnover. Most companies can't afford to be lax on their GDPR requirements. Businesses should take possible data breaches – and the data protection of their users – seriously.
Amazing Support provides full cyber consultancy for GDPR compliance. Our trained cyber compliance experts will guide you through the 2 out of the 12 steps to becoming GDPR compliant in relation to your Cyber Security, Data Privacy and Data Protection by Design (DPIA), as well as explain the significance of GDPR on the future of your business. Adhering to the regulation requires a genuine shift in mindset when dealing with business, employee and consumer data. We can help you change your whole approach to data protection, ensuring your current cyber practices are GDPR compliant and that you remain so automatically moving forward.
Why Invest in IT Security and GDPR?
In today's digital age when data breaches of major corporations are becoming more common, IT security is essential. Companies that actively work to safeguard their data and their users' data will be much better able to adapt going forward. Furthermore, investment in data privacy doesn't just reduce financial risks and clear your conscience. Businesses who comply with the GDPR tend to have lower overall costs when it comes to protecting data.
Investing in data protection measures is also important for your overall data management. To adhere to the GDPR, companies must track the data they collect more closely. This tracking presents an opportunity to eliminate excess information, thereby boosting data management and making the handling of customer requests more efficient. Tracking this data also gives you a clearer picture of your target users, which could benefit your marketing efforts.
At Amazing Support, we're experts in cyber security and the intrinsic relationship with GDPR compliance. You can depend on our knowledge in these areas to secure your data and protect your business from digital calamity. For more about our managed IT services, see our pages on Network Support and Services, Backup and Disaster Recovery, and Switching IT Support Partners.
Personally speak with one of our Directors to discuss your requirements
Complete this quick form and we will be in touch or contact us using: