Looking to reach your ambitious business goals and ensure your IT is ready? Then our Virtual CIO is for you
Strategic IT and business planning is a high-level process that any organisation should prioritise if it values growth. The best way to optimise your IT system with your larger business goals is through the consultancy of a Virtual CIO. Amazing Support offer Virtual CIO consulting services as part of our broader IT Consultancy package.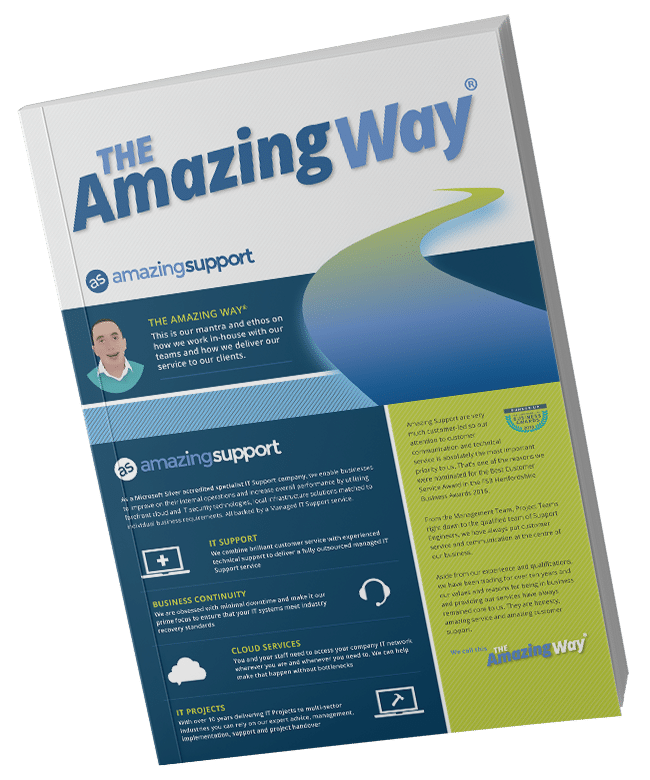 Find out how we deliver IT support the Amazing Way!
By downloading you agree to your data being passed to Amazing Support. For details on how we use it and keep it secure please see our Privacy Policy.
A Virtual CIO is an entity, either a contractor or company, that serves as your organisation's chief information officer in a remote or virtual capacity. The Virtual CIO takes on the same tasks as a conventional CIO. They collaborate with your IT department to outline strategic goals, plan the budget, analyse business processes, and facilitate technology upgrades.
A Virtual CIO helps you maintain your company's IT infrastructure, while also projecting long-term goals in the form of a business continuity plan. How much decision-making authority you grant to your Virtual CIO is up to you. If your organisation has limited IT staff or no IT staff at all, the Virtual CIO can take on more technology responsibilities. On the other hand, the Virtual CIO can serve in a purely advisory role, helping you align your broader business and IT goals.
What Do You Get with a Virtual CIO?
Our Virtual CIO services are both comprehensive and scalable. We offer as much or as little support as your business requires. With a Virtual CIO, you get flexible consulting for your SME, a tailored approach, 24/7 support, objective and strategic business continuity planning, and network security.
Advisement for SMEs – Most small and medium-sized enterprises don't have the ability to hire a full-time, in-house CIO. The strategic expertise a CIO brings to your company's IT and business operations is invaluable for staying competitive. Your business shouldn't suffer just because you're smaller in size. A Virtual CIO is a perfect solution for SMEs who want the benefits of a highly-skilled CIO without having to pay a large salary.
Tailored Consulting – Since Virtual CIOs and companies that provide them work largely on a contract basis, you can tailor CIO services to your specific business needs. You might only require your Virtual CIO for a few hours each month to advise on a certain project. In that case, you wouldn't want to overpay for services you don't use. Our Virtual CIO consulting is scalable as well, so you can add responsibilities as your business grows.
24/7 Support – The benefits of a Virtual CIO over a conventional one is 24/7 support. Since your Virtual CIO will be provided by our company rather than a single individual, we have a pool of experts who are available to take your requests or answer questions that come up – whenever they come up. There's no point in having a Virtual CIO if they can't be reached when you need them most.
Objective Business Planning – Utilising the services of an outside entity for your Virtual CIO consulting has the benefit of objectivity. We maintain a suitable distance from any internal politics of your organisation that would potentially get in the way of successful business planning and IT operations. Having an objective, outside expert is often the best thing for the growth of your business.
Securing Your Network – Business continuity depends on security, which is why it's is one of the most important tasks of a Virtual CIO. We're cyber security experts, having advised many businesses across London on keeping their networks secure. We bring that expertise to our Virtual CIO clients as well.
Your Virtual CIO Consulting Partner
Personally speak with one of our Directors to discuss your requirements
Complete this quick form and we will be in touch or contact us using: