Your Trusted IT Support Company in Manchester
To successfully run your business today, you need guaranteed IT support. Most modern companies rely on sophisticated IT systems to keep running and provide services to their customers. You simply cannot afford systems that don't work.
For your Manchester business to run smoothly, you need reliable, responsive IT support. Amazing Support provide scalable IT solutions to local, small, medium, and large businesses throughout Manchester. Our Business IT Support, comprised of our many IT services, is uniquely tailored to each company we work with. From Managed IT Services and Business Applications to IT Consultancy and Cloud Solutions, we provide bespoke IT solutions to suit your business needs.
Get an instant quote for your IT support needs with our quick quote tool
We deliver local businesses in Manchester with IT Support both remotely and on-site so that when you need it the most, we are there to help fast backed by our
Service Level Agreement (SLA)
.
Chat with one of our Directors
When it comes to your company's IT systems, you don't want to trust just anyone. You want an IT partner with proven experience supporting businesses of all sizes in your area. As a leading IT support company in Manchester, we have the expertise you can depend on.
The suite of IT services we offer to Manchester businesses is as thorough or as basic as you require. Whether you're looking for additional support to your in-house IT team or want to outsource your business IT completely, we can provide a flexible service package for you. We take a fresh approach with each client, so you never get someone else's solutions. You get amazing support that's optimised for you.
Our qualified engineers can offer IT support on an ongoing or ad-hoc basis, as well as consult on a special, one-time project. Updating your current licenses and virus packages, doing a general health check of your IT infrastructure, and auditing for cyber security and GDPR are just a few of the many options we provide to Manchester businesses.
You need an IT consultancy that will not leave you waiting and can provide quick and long-lasting answers. By using our managed IT support you are able to lower costs and re-focus your resources into other key areas of the business.
Security
We Take Cyber Security Seriously
The potential for cyber threats increases each day in today's globalised, digitised world. Businesses rely on IT systems more than ever and those systems can easily come under attack without proper precaution. Cyber attacks, data breaches, and data losses are detrimental to your business, causing often irreparable damage to your company as well as compromising your users' trust.
With our Managed IT Services, specifically our Cyber Security and GDPR support, are designed to protect Manchester businesses from cyber threats. We're experts in cyber security and consistently help companies bolster their cyber defences. By auditing your current cyber security health, we can devise lasting solutions that will keep you both functional and protected. Cyber security measures are only effective if they enhance business productivity, after all.
Amazing Support also provide IT consultancy on cyber security, should you need our expert guidance on a special project or as an addition to in-house IT services. With our IT services, you can rest easy knowing that your systems, network, and data remain secure.
Essentials
Cyber Essentials Scheme & GDPR
Amazing Support is recognised by the UK Government as a Cyber Essentials IT Support Company. The Cyber Essentials Scheme is a government-sponsored scheme to streamline cyber security practices and GDPR compliance among UK businesses. Companies that become certified in Cyber Essentials learn the basics of cyber security, how to prevent cyber attacks, and how to become and remain compliant with the GDPR.
Carrying a Cyber Essentials certification enhances your company's productivity. You're less exposed to potential threats, resulting in less data loss and less downtime. The Cyber Essentials certification also demonstrates to your customers that you take their data privacy and security seriously.
Since we're a Cyber Essentials IT Support Company, we're qualified to train your business on best practices in cyber security and GDPR compliance. We'll handle the entire process, from start to finish, employing the latest resources along with our expertise to protect your information. By following the Cyber Essentials scheme, you can stay safe from up to 80% of cyber threats.
Cloud Systems More businesses are seeing the potential of the scalable solutions offered by the cloud. Utilising cloud technology can save on expenses – you won't have to pay for on-site servers and you can select a monthly data storage and management plan that's suited to your needs. Connecting to the cloud also boosts efficiency, as employees can access your network from anywhere.
Amazing Support is a cutting-edge IT support company, staying current on the latest trends in cloud technology. We use these resources and our expertise in cloud hosting and management to offer Cloud Services and consultancy to Manchester businesses. We can help you optimise your Cloud Solutions, Cloud Computing Solutions, Cloud Email, and Cloud Manager services.
Once we've consulted with you on your business needs and how you plan to use the cloud, we can devise your cloud solution. We've helped many businesses of various sizes across Manchester switch their systems to the cloud, so we're qualified to help your business too.
Data & Recovery
Data Backup & Disaster Recovery
Unfortunately, data losses and data breaches are a common occurrence for the modern business. Cyber criminals work to counter your defences and take advantage of vulnerabilities in your IT system. Human error can lead to significant data loss as well.
Inevitably, disaster will strike your business at some point and you should be prepared for when it does. As part of our Managed IT Services, we provide sophisticated Backup and Disaster Recovery. Starting with an audit of your current infrastructure and backup processes, we devise a backup and data recovery plan for your business.
Recovery plans are usually detailed and comprehensive, relying on structured processes to get your business up and running again as quickly as possible. We can not only build a plan for you but also assist in carrying it out should the need arise.
What happens when you partner with us?
First off we will get you and your team set up on our helpdesk system so that from the word 'Go' you have immediate access to our support team.
We don't just set you up and disappear. Once you are on our system we will be in touch to arrange some account overview meetings and also any on-site work that was agreed at the beginning.
Then we'll complete all of the IT Support tasks that need to be done in order to give you the best service. Including risk management audits, asset storage audits and more procedures that will keep your business ticking over healthily.
With all of this in place, we still won't dissapear. Our team are constantly monitoring your systems, to identify any potential threats and solve any issues usually wbefore even you notice them; so that you can get back to doing what you do best, running your business.
Frequently Asked Questions
We've compiled a series of FAQs but if you can't find the answer here please contact us to find out more.
Find out how we deliver IT support the Amazing Way!
By downloading you agree to your data being passed to Amazing Support. For details on how we use it and keep it secure please see our Privacy Policy.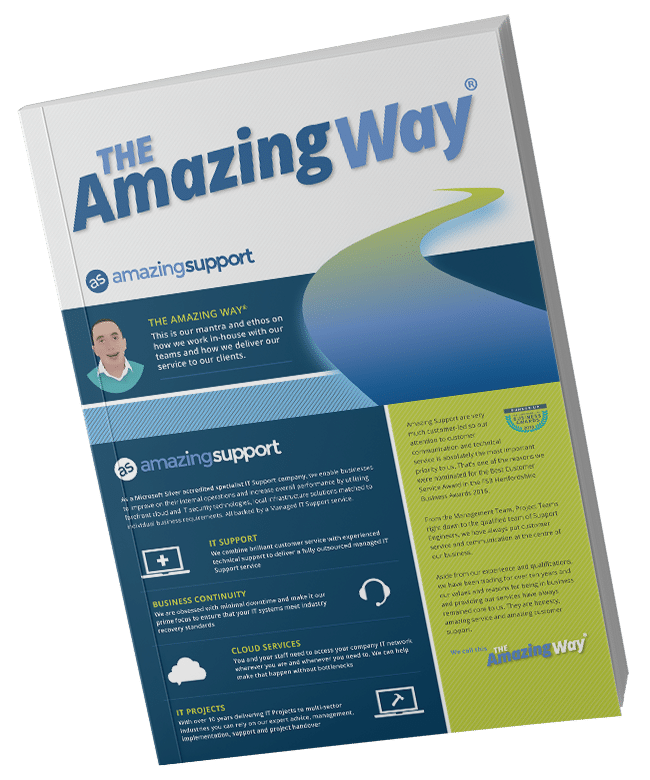 Why choose Amazing Support?
SUPPORT CALLS RESPONDED TO WITHIN 1 HOUR
CLIENTS GAVE US A 5/5 RATING
SUPPORT ISSUES RESOLVED WITHIN 24 HOURS
Get a Quick IT Support Quote and you'll see how much it would cost for us to support your business.
Your Local IT Support Company
Based close to the city centre, our Manchester IT Support team provide the city's businesses with the help they need to stay connected.
Personally speak with one of our Directors to discuss your requirements
Complete this quick form and we will be in touch or contact us using: