Mac OS for Business Services
Looking for expert consultation advice on how to run and manage your Mac OS or looking to switch? We can help you
Mac OS for Business Services
For a long time, Mac OS and Mac devices were reserved for creative professions. Thanks to advanced cloud computing and compatibility solutions today, however, Macs are suitable for businesses of any kind, just like PCs. Your business could benefit from running Mac OS and Amazing Support can provide guidance and consultation on your switch.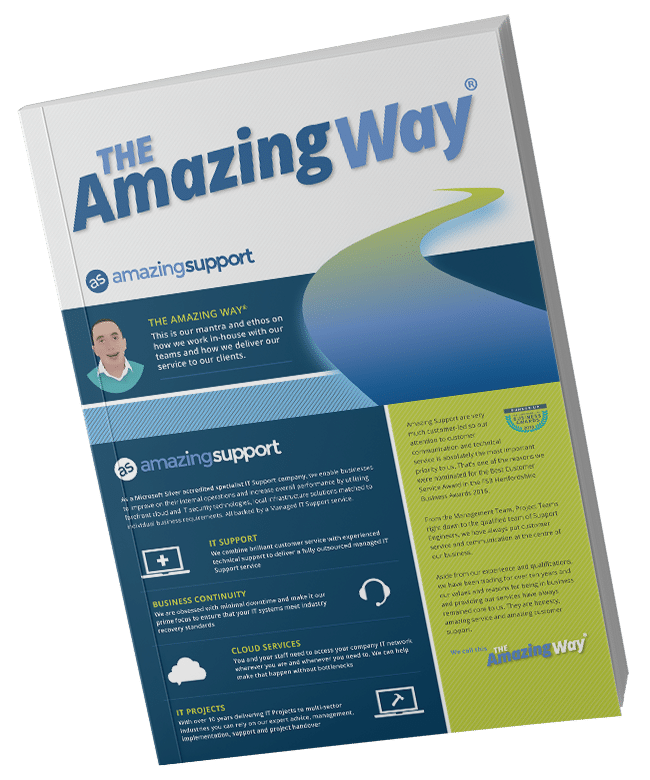 Find out how we deliver IT support the Amazing Way!
By downloading you agree to your data being passed to Amazing Support. For details on how we use it and keep it secure please see our Privacy Policy.
The Best Features of Mac OS for Business
Apple has developed several features that are geared toward professional use. These tools are meant to boost productivity, spark creativity, and streamline collaboration. It's also possible to build custom apps for your company, IT teams can deliver tailored content via Automated Device Enrollment, and your organisation can create and manage Apple IDs for your employees. There are several other features that make Mac OS a smart choice for businesses.
Voice Control – Voice control, released with macOS Catalina, allows users to take complete control of their Macs with voice commands. The practical application of this feature for businesses is enhanced productivity, by streamlining repetitive tasks.
Security Features – With Gatekeeper to check apps for security issues and the T2 Security Chip to support Activation Lock, Macs protect your data – even on lost or stolen devices.
Automate Workflows – The Siri Shortcuts feature allows you to build workflows triggered by a command via Siri. You can automate sending a status update to a co-worker when you have a new sales lead or launch a to-do list for yourself with one voice command.
Business Manager – Apple Business Manager makes it easier to manage and deploy all of your organisation's Apple devices. The Web-based portal can easily provide access to Apple services that your team needs in any environment while keeping your data secure.
The Benefits of Mac OS for Business
Fewer Upgrades than PCs – Apple's laptops and desktop computers are usually designed and built to last several years. In a business setting where consistent, daily use causes wear and tear, Macs don't need to be upgraded as often as PCs.
Better User Experience – Macs are known for being more user-friendly than PCs. Even if people are familiar with Windows, updates and new programmes might still require you to train your staff to use products correctly. The learning curve for Mac OS is significantly lower.
Security – Since PCs are more prevalent in general, they tend to be targets of cyber attacks more often than Macs. Running Mac OS could lower chances for cyber threats – unless Macs become more widespread.
Impressive Design – It may not be the most important factor for your business, but Macs tend to put in a better appearance than most PCs. Image isn't everything, but if you're in a creative field or a highly client-facing profession like marketing, your customers might expect to see proof that you're up on the latest trends.
Compatibility – Until recently, compatibility between Macs and PCs was laborious. Now, thanks to the cloud, it's easier to share files across operating systems. There are even more applications that can run on Mac OS that were once Windows-only. If you don't want every workstation or device in your business to be an Apple product, it's still possible to be productive with both Macs and PCs.
Amazing Support – Your Partner for Integrating Mac OS
If you require expert consultation on running and managing your Mac OS, or your business is considering switching to Mac OS, Amazing Support can help. We provide support, management, and consultancy on Mac OS for business solutions. Our dedicated project managers will see your switch to Mac OS through to completion, and our expert consultants remain at your disposal to help you maintain the system.
For more info on the business applications we support, check our pages on Office 365, Dropbox Business, Microsoft Windows, VMware, Citrix, Accounting Platforms, and CRM.
Personally speak with one of our Directors to discuss your requirements
Complete this quick form and we will be in touch or contact us using: