"Amazing Support really do live up to their name! They have supported our IT for many years and are trust worthy, hard-working, caring people, who are always willing to go that extra IT mile when needed and let's face it, there are times when it's really needed!! All of us at Silver Lining Training would recommend them to any individual, small business or organisation" – Danielle Simmonds
London's Trusted IT Support Team
At Amazing Support we've been one of the leading companies in the field of IT support, in around London for over 10 years. As a locally established company, we clearly understand the various needs of businesses located in the area. Since our inception, it has been our job to provide best-in-class business IT support in London, helping both local and even international businesses stay safe in the digital age allowing them to grow leaps and bounds.
We have worked with many companies in various verticals and we know what it takes to make your business operations more efficient with the help of IT. When you work with us, you get access to some of the top consultants in the field of IT consultancy that London has to offer. This can't get any better! Our team is always on hand to provide not only support for your IT issues but also as a consultancy we can lend advice and if needed, a real pair of onsite hands to solve your IT troubles.
Get an instant quote for your IT support needs with our quick quote tool
BUSINESS IT SUPPORT FOR ORGANISATIONS OF ALL SIZES
We help local businesses and organisations of all sizes develop IT systems that are easy to manage and monitor along with their existing IT infrastructure. We don't believe in following a One-Size-Fits-All approach. Our managed IT services are flexible enough to suit the needs of a wide range of business verticals and industries, while also ensuring that your IT systems have a smooth operation all the time.
Building a business on a solid foundation requires constant support from a close network of partners who you can rely upon. That's why large multinational corporations invest in having an extensive on-site network of IT consultants in every office they have
But what if yours is a small or medium-sized enterprise? What if you don't have enough resources to afford such a reliable network of professionals? Worry not! We, at Amazing Support, Our goal is to make IT support in London available and affordable to all the local SME businesses and start-ups.
Chat with one of our Directors
Our Support Services in London
It's important to keep your IT systems in good working order as they are the lifeblood of many businesses. Amazing Support provide scalable support packages that can be developed to meet the exact needs of your infrastructure. Our friendly, experienced team ensure you always receive a dedicated and flexible solution that always puts your business first.
As part of our IT services, our qualified engineers are available to support your business and manage your IT systems on an ongoing basis. This can include updating licenses and virus packages, and providing an in-depth health check of the current state of your IT infrastructure.
You need an IT consultancy that will not leave you waiting and can provide quick and long-lasting answers. By using our managed IT support you are able to lower costs and re-focus your resources into other key areas of the business.
Security
High-Strength Cyber Security Measures
In today's digital age, cyber security has become more important than ever! You perhaps already know how big of a threat cyber-attacks are to almost all businesses. A single breach in the company's private data or IT infrastructure can result in huge losses of not just capital, but also business reputation. Why risk all that when you can have access to a trusted IT consultancy that can provide you the best-in-class IT support in London?
We take cyber security measures that make cyber attacks a thing of the past. From server and network security to advanced malware and firewall, we do whatever it takes to safeguard your business assets and IT infrastructure. Thanks to our decades of combined experience in the field of IT security, we provide peace of mind to our clients while their business remains 100% secure.
The digital landscape is evolving so rapidly, businesses need to take sufficient measures to avoid the known and unknown dangers of taking cyber security for granted. This is why at Amazing Support, we always take cyber security very seriously. We offer managed cyber security services that are designed to safeguard your key business assets, secure data and IT infrastructure, thereby preventing any breach in security or a potential cyber attack.
Essentials
Cloud Systems
Data & Recovery
What happens when you partner with us?
First off we will get you and your team set up on our helpdesk system so that from the word 'Go' you have immediate access to our support team.
We don't just set you up and disappear. Once you are on our system we will be in touch to arrange some account overview meetings and also any on-site work that was agreed at the beginning.
Then we'll complete all of the IT Support tasks that need to be done in order to give you the best service. Including risk management audits, asset storage audits and more procedures that will keep your business ticking over healthily.
With all of this in place, we still won't dissapear. Our team are constantly monitoring your systems, to identify any potential threats and solve any issues usually before even you notice them; so that you can get back to doing what you do best, running your business.
Frequently Asked Questions
We've compiled a series of FAQs but if you can't find the answer here please contact us to find out more.
Find out how we deliver IT support the Amazing Way!
By downloading you agree to your data being passed to Amazing Support. For details on how we use it and keep it secure please see our
Privacy Policy
.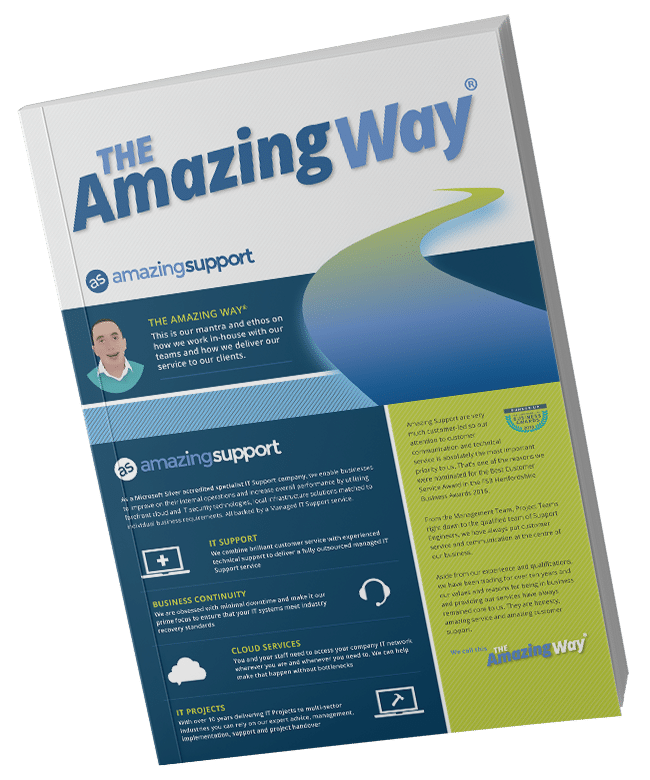 Why choose Amazing Support?
SUPPORT CALLS RESPONDED TO WITHIN 1 HOUR
CLIENTS GAVE US A 5/5 RATING
SUPPORT ISSUES RESOLVED WITHIN 24 HOURS
Get a Quick IT Support Quote and you'll see how much it would cost for us to support your business.
See how we've helped other companies stay ahead with IT...
Your Local IT Support Company
Based 5 minutes from Mayfair, our London IT Support team provide the city's businesses with the help they need to stay connected.
Personally speak with one of our Directors to discuss your requirements
Complete this quick form and we will be in touch or contact us using: