Our Climate Commitment
We're a small and medium-sized enterprise (SMEs) making the SME Climate Commitment. Amazing Support took the opportunity to make an internationally recognised climate commitment which is aligned with the latest climate science.
As a UK Business Climate Leader and Member of the SME Climate Hub, we are committed to reaching net-zero emissions by 2050. This means that we will be closely aligned with companies that have made the Business Ambition for 1.5°C pledge.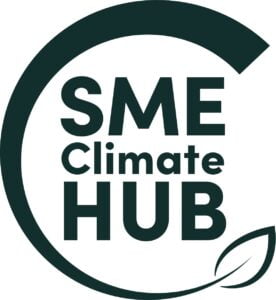 Recognising that climate change poses a threat to the economy, nature and society-at-large, our company commits to take action immediately in order to:
a) Halve our greenhouse gas emissions before 2030
b) Achieve net zero emissions before 2050
c) Disclose our progress on a yearly basis
In doing so, we are proud to be recognised by the United Nations Race to Zero campaign, and join governments, businesses, cities, regions, and universities around the world with the same mission.
How we make our climate change impact
We're facing a climate emergency and we must all work #TogetherForOurPlanet to protect it. We're serious about climate change. We've listened to our customers and take concrete steps to reduce our emissions as part of our climate commitment.
Our business has committed to achieving net-zero emissions by 2050 as part of the UK's Business Climate Leaders campaign. When you work with us you can be confident we are doing what we can to reduce our impact on the environment.
We are a climate-focussed and carbon-aware, forward thinking and multi award winning Managed IT Support company who understands the need to work with our supply chain to halve emissions before 2030 and achieve net zero emissions before 2050. For example, our website that you are reading this Climate Commitment on is hosted on equipment run on 100% renewable electricity and energy by Krystal, another proud member of the SME Climate Hub. We strive to work with other suppliers and clients with the same climate awareness and green mentality.
We have smaller and more sustainable offices than 5+ years ago, with energy efficient lighting and ICT equipment and we are as much as is possible a paperless company, to include our banking and payroll activities. All of our support, monitoring, HR, accounting & payroll, banking & finance, sales & marketing and management (email, collaboration, billing, licensing and backup) systems are cloud-based and we no longer run any in-house servers. Our tech partners are also best-of-breed enterprise level companies using energy efficient platforms. This is largely thanks to IT operational and equipment efficiency, DC infrastructure efficiency and a higher utilisation of renewable energy. According to International Data Corporation (IDC), moving from on-premise servers to cloud computing globally could eliminate a billion tonnes of CO2 over the next four years and our business systems methodology runs inline with this climate saving solution.
Our staff also have the flexibility to work from home whenever they wish for as long as they wish, reducing carbon emissions from travelling to and from home/work. We've also changed our company cars from petrol to fully electric vehicles. These decisions make sense for us and the planet.


We work with Ecologi, a platform for real climate change. Through our regular funding, they finance Gold Standard sustainability, carbon offset projects and tree planting around the world. Every month we are able to see the planting of groves of trees in our company forest as well as seeing the benefit from the carbon reducing projects worldwide. We have even covered all of our staff so that they become climate positive and offset their carbon footprints whilst they work with us. We're proud to be a business leading our industry and IT community in sustainability and since 2021 we've already successfully offset over 50 tonnes of carbon and counting.
See our climate impact at https://ecologi.com/amazingsupport, helping us to meet our sustainability goals and #NetZero SME Climate Commitment.
We've also completed our B Corp B Impact Assessment. With only 3% off the certification benchmark Amazing Support is truly on the path to becoming net-zero and an award winning #ESG certified Managed IT company. Our goal for 2022/2023 is to reach that benchmark and become B Corp certified to continue our sustainability journey with our climate-focussed partners.