Many companies are concerned about home quarantine and the impact it will have on their business. Our infographic below is designed to help business owners keep their business running during a Coronavirus outbreak. Please share and forward on to your friends and work colleagues #Coronavirus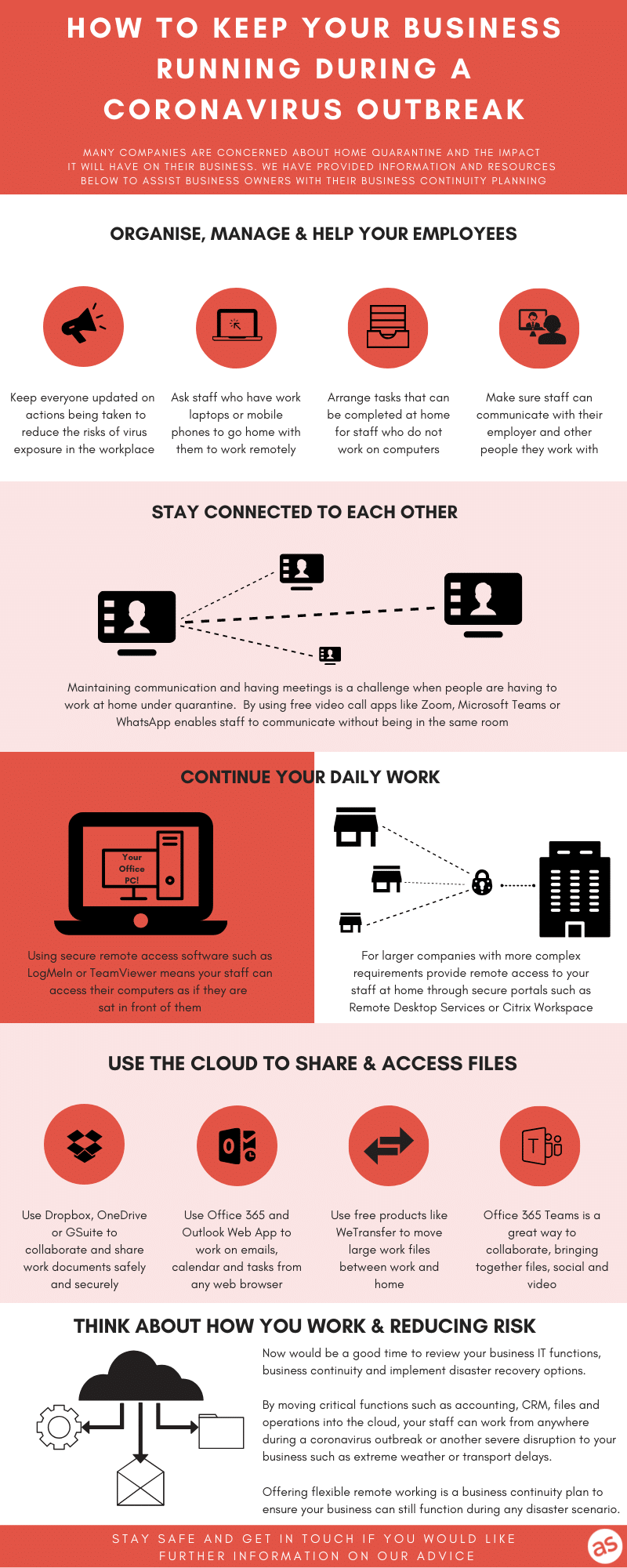 ---
FREE Business Continuity Review
As part of our on-going strategic responsibility as a Managed Support & Security Provider, we need to ensure that businesses are protected against the evolving threat landscape through cyber security measures and should the worse happen, a solid Disaster Recovery (DR) Plan. Complete our FREE Business Continuity Review and proactively help your business stay on its feet should you experience any sort of disaster @ https://www.amazingsupport.co.uk/business-continuity-review
---
How to keep your business running during a Coronavirus outbreak
Organise, manage & help your employees
1. Keep everyone updated on actions being taken to reduce the risks of virus exposure in the workplace
2. Ask staff who have work laptops or mobile phones to go home with them to work remotely
3. Arrange tasks that can be completed at home for staff who do not work on computers
4. Make sure staff can communicate with their employer and other people they work with
Stay connected to each other
Maintaining communication and having meetings is a challenge when people are having to work at home under quarantine. By using free video call apps like Zoom, Microsoft Teams or WhatsApp enables staff to communicate without being in the same room.
Continue your daily work
Using secure remote access software such as LogMeIn or TeamViewer means your staff can access their computers as if they are sat in front of them. For larger companies with more complex requirements provide remote access to your staff at home through secure portals such as Remote Desktop Services or Citrix Workspace.
Use the cloud to share & access files
1. Use Dropbox, OneDrive or GSuite to collaborate and share work documents safely and securely
2. Use Office 365 and Outlook Web App to work on emails, calendar and tasks from any web browser
3. Use free products like WeTransfer to move large work files between work and home
4. Office 365 Teams is a great way to collaborate, bringing together files, social and video
Think about how you work and reducing risk
Now would be a good time to review your business IT functions, business continuity and implement disaster recovery options. By moving critical functions such as accounting, CRM, files and operations into the cloud, your staff can work from anywhere during a coronavirus outbreak or another severe disruption to your business such as extreme weather or transport delays. Offering flexible remote working is a business continuity plan to ensure your business can still function during any disaster scenario.
Stay safe and get in touch if you would like further information on our advice and IT Support.